"But the Lord is faithful, and he will strengthen you…"
2 Thessalonians 3:3
This has been a hard week for me.
I was finally able to see the dentist who put the crown on my tooth.
Apparently there were a lot of tiny pieces of cement stuck under the crown,
with nowhere to go, causing the fleshy part of my healthy tooth to swell and become infected.
The procedure to clean under the crown was horrible and I'm on an antibiotic
to fight the infection that has set in.
Yes, I'm still in pain.
I saw this the other day and thought it fit me perfectly.
Because I did feel as if God didn't care,
as if He was just letting me suffer in this pain.
The reality is quite the opposite…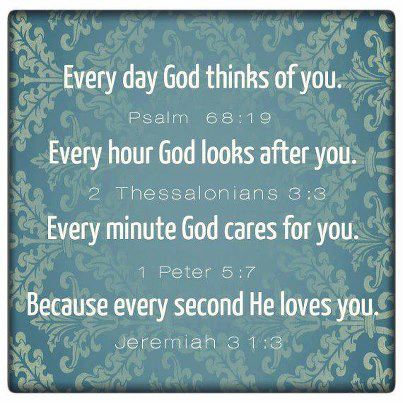 He LOVES me.
He LOVES you.
All you need to do is let Him in.
As always, if you have any questions on having a relationship with our Lord,
please leave me a comment or you can email me.
I'd be happy to show you the way.
Enjoy your day!