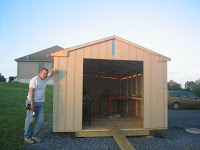 …allowing my husband to talk me into HIM building our shed. Okay, maybe that's not the biggest mistake I've ever made, but, it comes close. I know my husband means well. Really. It's just that he has no time for projects! I pleaded with him to please just order the shed already built. But, no, he had to buy the kit and put it up himself on his only week off from work in ages! And, the guy at Lowes was no help at all either in convincing my husband to buy it already built.
My husband's job is very demanding and he is often without days off. It's not unusual for him to work 2, maybe 3 weeks in a row and then get maybe 1 or 2 days off. We had planned for 2 weeks off in May. We weren't going anywhere, just going to try and get things done around the house. Oh yeah, and build the shed. Well, he came back from Virginia and my dad passed away so we were quite busy the first week of his vacation, which I need to point out, he still had to go in to work one day!
Then last week, Memorial Day. I was sick, sick, sick. I came down with this terrible stomach flu the Sunday before Memorial Day. I woke up in the morning thinking surely we will cancel the barbecue we had planned. NO. Everyone still came over after being warned how sick I was with a promise that I would stay up in the bedroom. Tuesday, my husband starts bright and early on the shed and continued working on the shed until Saturday evening. I mean, out in the yard from 6:00 AM till 9:00 most evenings! And, where was I you might ask?? I was still sick!
I couldn't even make it to church yesterday. But, when my husband came home around 12:30 as I was preparing lunch for him and the kids, he said to me, "Oh, Joe is coming over around 1:00." JOE? Thank God for Joe! He's our contractor who has worked on refinishing our basement and putting on the roof over our deck last summer. Phil called Joe on his way to church and had him come over to give us an estimate on finishing up the shed. My husband went back to work today and could not see coming home over the next few weeks to an unfinished project.
Thank you Sweetie! Now when he comes home this weekend, maybe we can get to a few of our projects around the house, like cleaning and organizing the garage and rebuilding the rock wall around the garden, oh yeah…and finding that guy at Lowes who promised putting a shed together from a kit would be quick and easy!
Later…