This week's Tuesday's Question came to me yesterday while I was
working in my kitchen with tomatoes from our garden…
"Do you can any summer vegetables or fruits?"
This was ME yesterday…
The Colonel and I planted our first garden in 2000 in the backyard of our house in Paterson, NJ.
We did very well.
And I wanted to "can" my tomatoes but had no clue where to begin.
I sent an email to my cousin Traciene asking her for instructions.
We spent quite some time going back and forth when she finally sent me an email saying…
"Just get in the car and make the drive to Ohio."
The Colonel and I did just that.
We packed the kids up and made the trip to Ohio.
Michael and Olivia at my cousin's house…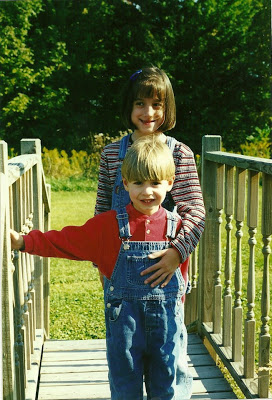 Traciene and I spent a "few" hours in her Italian kitchen in the basement
where she taught me how to can tomatoes…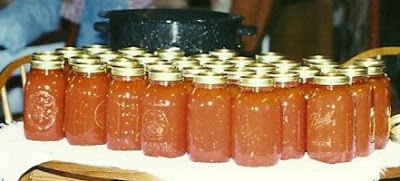 The following summer I canned the tomatoes we grew in our backyard.
And I was so happy.
I also canned fruit and made jam to give as gifts that year for Christmas.
I'm happy to say that after a few years of NOT having a garden,
the Colonel and I planted one this spring and have been enjoying our harvest…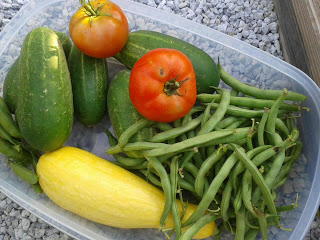 And of course tomatoes…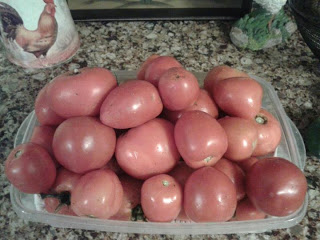 This is what I have on my counter this morning…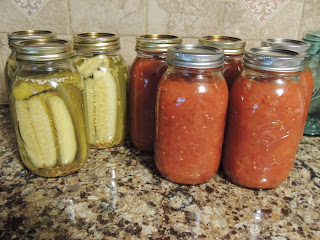 I still have tomatoes ripening in the garden and hope to add
a few more jars to my pantry in a few weeks.
Thank you TRACIENE for showing me something I hope
to do for many years to come.
My cousin Traciene, her hubby, Wayne, and me in her Italian kitchen…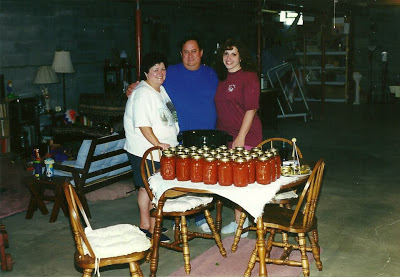 Don't forget to leave a comment and answer this week's question…
"Do you can any summer fruits or vegetables?"
Enjoy your day!