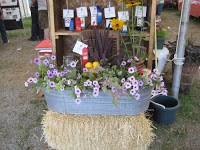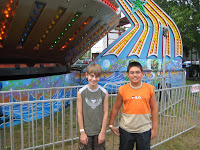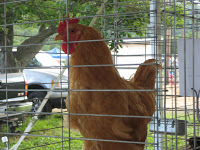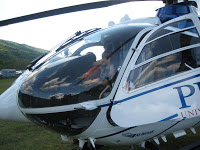 So on Saturday with the Colonel away for the weekend running an exercise I decided to see what all the hype was about our county fair. Of course, I took my mom! Olivia wanted nothing to do with it, wise child, and stayed home. Michael, of course, couldn't wait to go. So we invited his friend Justin and headed off to town.
I've only been to one other fair, the Sussex County Fair, and let me tell you Carbon County has NOTHING on Sussex County. The fair was held in our town at the bottom of the mountain and not very appealing. After buying Michael his wrist band so he could go on all the rides for $10, mom and I went looking for the exhibit booths.
We found the animal booths without any problem…all we had to do was follow the smell…which was pretty bad! The cow booth was very interesting only because of the way the people who were showing their cows had literally set up camps in the booths next to their cows. I kept wondering, doesn't the smell get to them? And then at the front of the booth there was this table filled with cakes, cookies, etc…all UNCOVERED! I would never in a million years have helped myself to anything! But it didn't seem to phase these people one bit.
The booths for the blue ribbon flower arrangements, vegetables, homemade jams, etc. were very nice. We even saw some unusual looking chickens. And some really cute lambs.
The highlight of the day was Michael and Justin getting to sit in the helicopter that transports critically injured patients down to the hospital. They had landed and were letting everyone come and have a look. The highlight of my day was the pina colada smoothie!
All in all I know Michael had fun. He was able to ride a bunch of rides with his friend and then pretend to be a fighter pilot. Next year I will take the advice of my daughter and forgo the fair for an afternoon of watching television and have the Colonel take Michael and bring me home a pina colada smoothie!