Today I'm happy to share with you a great cookbook that I received a few weeks ago called Domestic Chic by Kristin Sollenne. I love reading cookbooks and was pretty excited to receive this one because Kristin's cookbook is set up as pre-planned menus with over 100 recipes to help plan your next family get-together or holiday celebration. I love to plan celebrations and this cookbook makes it really easy!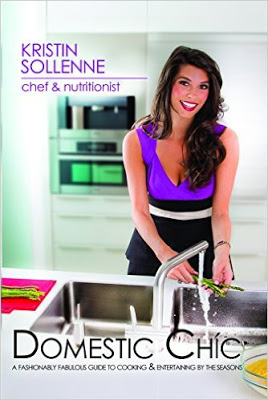 Here's a little of what you can read on Amazon when purchasing the book:
"Rising culinary star Chef Kristin Sollenne has been making headlines for her contemporary food philosophy, approachable cooking tips and re-imagined healthy dishes. Rather than the sometimes-overwhelming cookbook approach, Kristin has provided you with the ultimate go-to guide for cooking and entertaining by the seasons. With 16 pre-planned menus and over 100 recipes with innovative décor tips to coincide with holidays and celebrations during each season, this is your "one-stop-shop" to hosting a fashionably fabulous affair! Unique flavors and pairings are awakened through each menu, along with touching family stories and traditions. As a certified nutritionist, Kristin focuses on fresh in-season produce and the lavishness of each season to guide your palette. Passionate about healthy, flavorful dishes, she demonstrates a farm-to-table approach to traditional Italian style cooking. Think a modern day twist on your grandmother's classics! Speaking of modern day – check out Kristin's specialty line of kitchen couture designer aprons, CELLINI, and always entertain with passion and flair."
South of the Border Casserole was EASY to put together and DELICIOUS!
Make sure you come back tomorrow to get this great recipe!





Full disclosure: I received a copy of this cookbook for review.
All opinions in this post are 100% my own.