When I said in my previous post, "If you come back tomorrow," 
I really meant if you come back next week.  
Sorry about that.  
Here are the pictures I promised of the Colonel's quarters. 
I posted pictures a few months ago of the
shipping container
he was sharing with another soldier when he was in Kabul.  
He has since been transferred up to Northern Afghanistan.
This is his NEW shipping container. 
Only this one has a wall down the middle making two separate units.  
Here is his new shipping container.
Very small.
His half is on the right.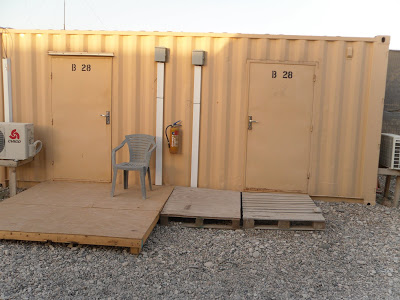 With the door open…
He had help making the bunk, to get the bed off the floor…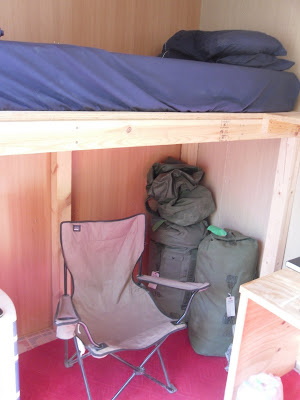 Where he keeps his clothes and books.
Can you see he's getting some good use out of the boxes I send him?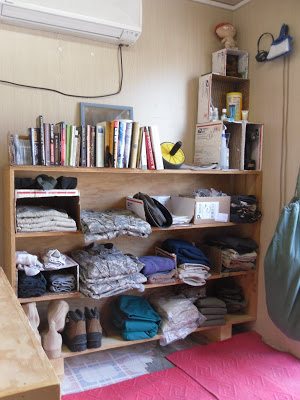 The desk he also had help making…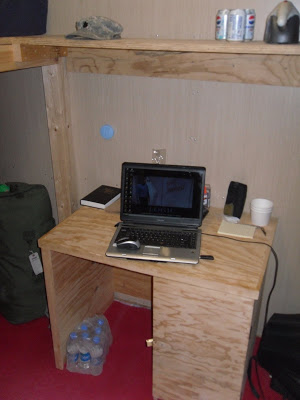 He really is pretty neat and organized.
You should see pictures of his shed here at home.  
I must say I'm quite impressed with what he's done with 
his half of the shipping container.
And I know he's happy there's a wall dividing the container.
I'm grateful he has an air conditioning unit on the wall.
It's been so hot over there.  
One day he told me it finally cooled down to 115.
My heart goes out to the other soldiers who have to spend 
their time in tents.
When he sent these pictures last week,
I immediately emailed him back and told him
NOT to get too comfortable over there!
Enjoy your Monday!