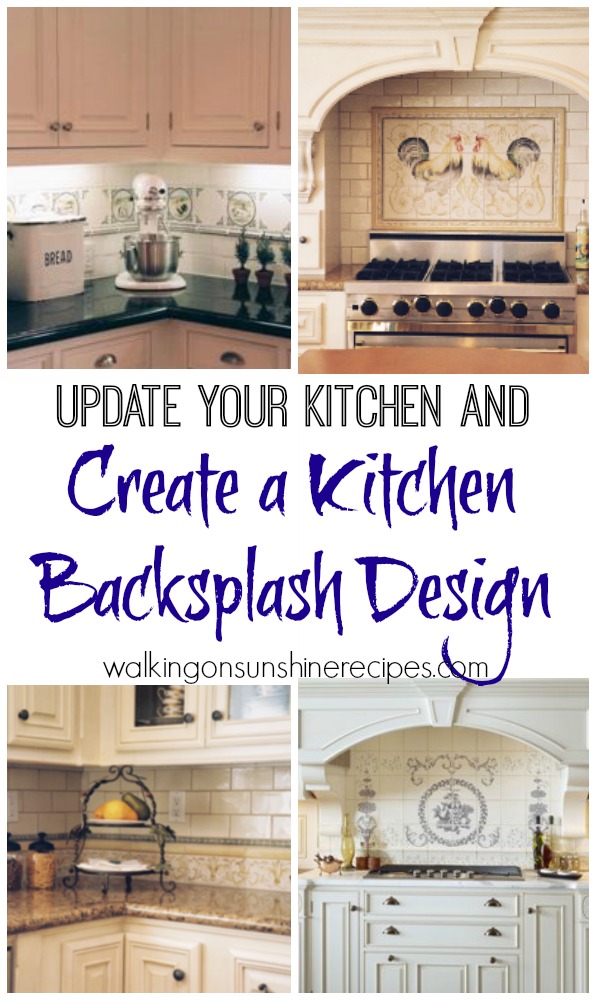 Today's post is brought to you by my hubby…the Colonel.
And sometimes all you need to do to update your kitchen is to add a tile backsplash design, so why not make it pretty while you're designing something new. Here are a few ideas to help create a kitchen backsplash that will make your family and friends envy your kitchen all over again…
We get the prospect of
improvement without the same level of anxiety that comes with renovating the
entire kitchen from baseboards to ceiling. Of course it's still important to
plan, to figure out just what we want and to determine what inspires us. So, where do we draw our inspiration? Do we draw it from a certain time? A place?
Do we draw it from a person, or perhaps a culture?
Inspiration can hit us in any number ways and from any
direction. Please let me share a bit of
my own inspiration.
Cottage industries have always fascinated me. There is something commendable, even splendid
about a craftsman working a piece of glass or clay in their home studio. It's work done more for the joy than for
compensation.
I recall an early winter's day back in the early nineties. I parked my express delivery van in front of
a private home in Mine Hill Township, NJ, and grabbed the package.
Light was coming through the attached
sunroom, so I headed for the side door.
I was ushered into a small craft studio with ceramic tiles
of various sizes piled onto drop cloth covered tables.
On a draftsman's board in the middle of the room was the
artist's current project:
A mosaic of perhaps thirty 6"x6" porcelain
tiles.
Taking shape was an mélange of
grape vines, sage, leeks, olive branches, and wisteria.
I'd never been to Tuscany.
Never the less, the artist's inspiration was obvious.
This tiny event, wholly insignificant on its face, was
brought to mind while perusing these
Jardiniere Series line of wall tiles.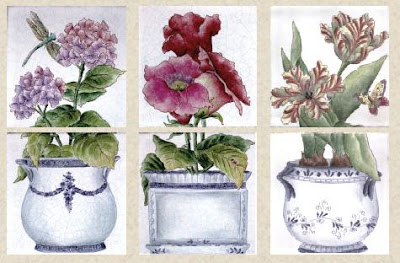 This particular line is well named. Jardiniere – literally translates (in French, not Italian) to "female gardener." It's a subtle word with some nuance – where translation and meaning diverge in an elegant way. Many of us have Jardinieres in or around our homes. Decorative urns or planters tasked with holding our flowers and herbs. Receptacles giving our porches and gardens a classic Mediterranean accent.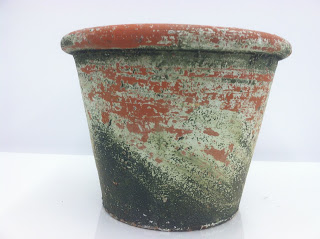 This was the inspiration for these tiles. Romanesque in origin, with style variations recalling the classic cultures if Hispania, Marseilles, and yes, Tuscany. Here are some of the tiles placed beautifully over a stove top. The tile really does create a beautiful focal point…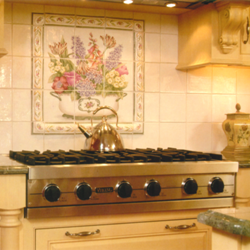 Of course, my wife was drawn more to this beautiful backsplash design, also by Plumbtile.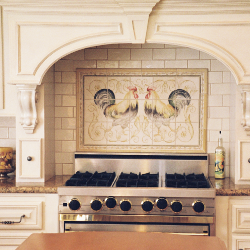 Or even this one from the Toile line…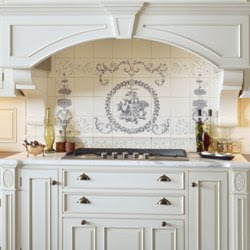 When it comes to choosing how to create a focal point in your kitchen, may I suggest choosing tile. Nothing beats the traditional look of tile and it makes cleaning up kitchen messes quick and easy.

Never miss a post from Walking on Sunshine Recipes.
Click on the box below to Sign up NOW and get new posts delivered to your inbox every morning.

I'll also send you a printable weekly menu to use to help plan your family's meals.