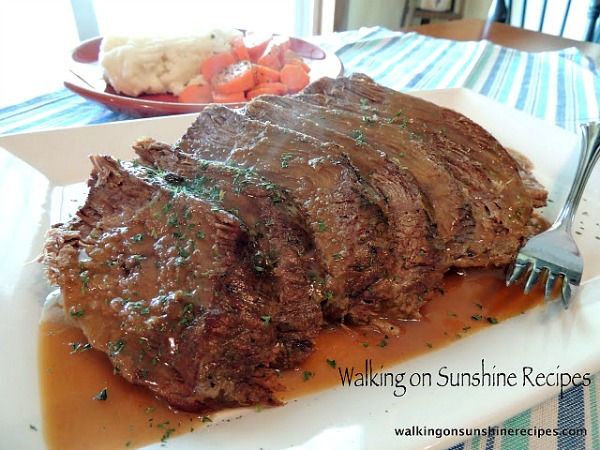 What is your favorite comfort food?
For myself and my family the answer would be pot roast. Every mom seems to have the perfect recipe for pot roast and I really do think mine is delicious. I keep it simple but the taste is amazing. I cook my pot roast in the crock pot which gives you meat so tender you won't need a knife. Oh and let's not forget to talk about the gravy! This isn't gravy from a jar, it's homemade, thick and perfect for mashed potatoes so make sure you make plenty of them. So set the table and get ready to enjoy Sunday dinner at it's best this weekend.

This post contains affiliate links. Your cost is the same, but I earn a commission when you shop through them. Your purchase helps support this site and the fun things I share. For more information, click here.

amzn_assoc_placement = "adunit0";
amzn_assoc_search_bar = "true";
amzn_assoc_tracking_id = "walkonsunsrec-20";
amzn_assoc_ad_mode = "manual";
amzn_assoc_ad_type = "smart";
amzn_assoc_marketplace = "amazon";
amzn_assoc_region = "US";
amzn_assoc_title = "My Amazon Picks";
amzn_assoc_linkid = "c1c88987bb0efb4ec3eaae9a42781ff2";
amzn_assoc_asins = "B00LEACMME,B00HLEFO7W,B01JUU23Z0,B01J9HMQH4,B01JG5SFCO,B015EZO268,B01KVE0MUM,B01K7FZN2C";
Never miss a post from Walking on Sunshine Recipes. Click on the box below to Sign up NOW and get new posts delivered to your inbox just once a week. I'll also send you a printable weekly menu to use to help plan your family's meals. You can also follow along with me on Facebook, Pinterest, Instagram and Twitter.