A little over a month ago my Colonel came home…
For GOOD.
The last time I posted he was stuck at Ft. Benning waiting for a signature. 
Then he was stuck in Atlanta waiting for the ice storm to pass. 
Then he was stuck trying to get on a flight since most all flights were cancelled.
He finally was able to get a flight and come home for good.
The day BEFORE he was to report to his new job. 
The morning he left for his new job I posted the following as my
 Facebook status:
For the first time in 8 years my Colonel left for work 
this morning and will be coming home tonight.  
What a concept, huh? 
It's really, really nice.  
And NORMAL.
Something I can get use to.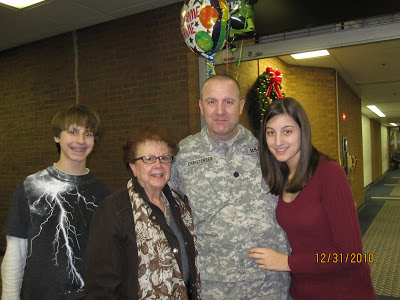 Michael, my mom, my Colonel and Olivia