LAUNDRY.
I made the confession of forgetting to wash Michael's football uniform
over the weekend and not wanting to make the drive down to the high school
in the afternoon with a clean uniform for practice.
He has practice every day after classes till around 6:30.
So I did what every other Mom thinks of doing…
I sprayed his uniform with Febreeze
and put it in his football bag.
Later in the day I mentioned on FACEBOOK how wonderful I felt knowing all the laundry
in our house was done and folded UNTIL I walked into Michael's room to
place his clean clothes on his "neatly" made bed.
I stopped and noticed DIRTY clothes covering the floor of his room.
That never happens.
He's always so good about putting his clothes in the hamper.
So I posted this photo…
And then a few hours later, Michael came home school/football practice…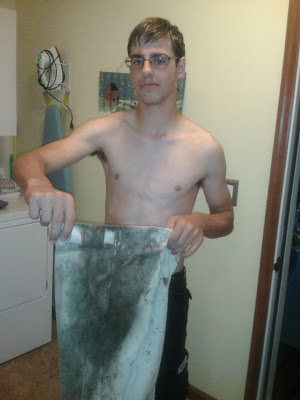 He had a huge smile on his face as he pulled his uniform out of his football bag.
He said practice was GREAT.
Did I mention it was raining most of the afternoon yesterday?
And not just a normal rain, NO it was pouring like I have not seen in ages.
And he practice for 3 hours in the pouring rain on a muddy field.
So at 7:00 last night the washing machine went BACK to work because I knew
he needed those pants today and Febreeze was NOT going to work this time.
But bleach did…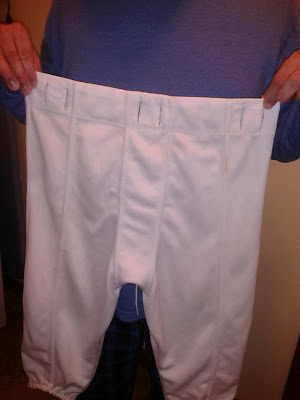 And yes, this photo pretty much sums up how I felt about laundry last night…
My son, Michael, on his first day of school over a week ago…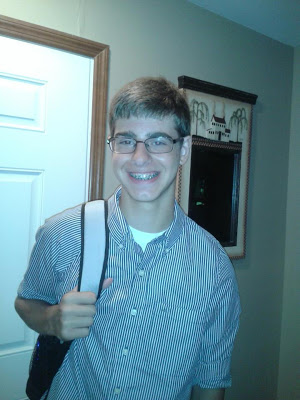 And on the bus in his CLEAN uniform…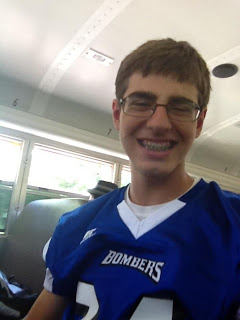 On the menu at our house tonight:
Chicken Cutlets Italian Style, recipe
HERE
…
Pasta with Fresh Tomatoes, recipe
HERE
…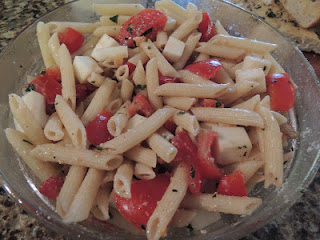 Enjoy your day!