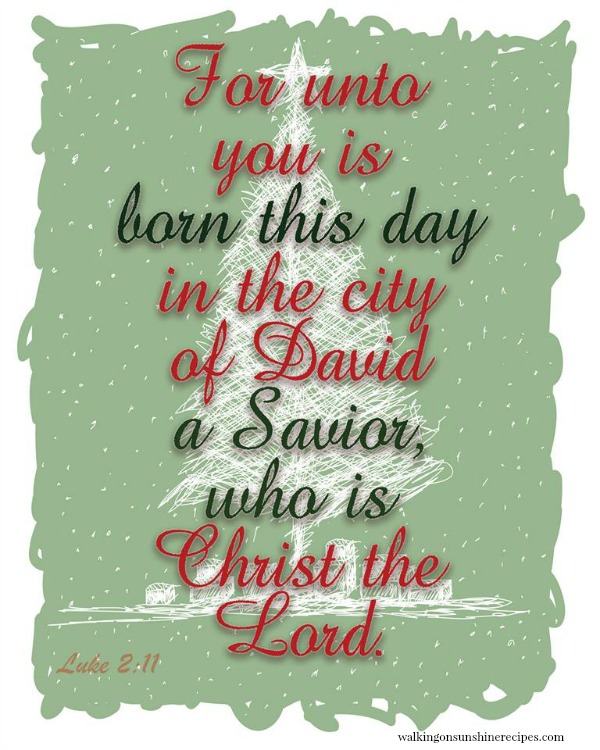 This week's Scripture Sunday is in preparation for Christmas in just a few days.
A favorite verse for many and you can now print this out to hang somewhere in your house.
"For unto you is born this day in the city of David a Savior, who is Christ the Lord."
Luke 2:11


CONTINUE READING FOR THE FREE PRINTABLE

Here's another FREE printable for you this Christmas from Walking on Sunshine!
My daughter has been creating these and I think she's doing a great job. All you need to do is click on the photo below or the link above the photo and it will bring you to Drop Box where you'll be able to download the print to your computer and print it out using whichever print program you have for your computer.
Click the photo for the link to print or click HERE.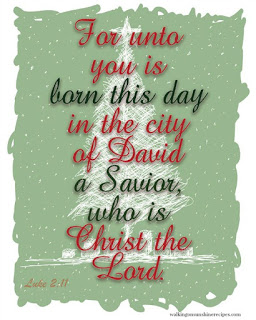 Find What You Need at Amazon!
amzn_assoc_placement = "adunit0";
amzn_assoc_search_bar = "true";
amzn_assoc_tracking_id = "walkonsunsrec-20";
amzn_assoc_ad_mode = "manual";
amzn_assoc_ad_type = "smart";
amzn_assoc_marketplace = "amazon";
amzn_assoc_region = "US";
amzn_assoc_title = "My Amazon Picks";
amzn_assoc_linkid = "7edf7bf4671e4235f7b9d983c987d7f6";
amzn_assoc_asins = "1634095693,0718039505,1938499867,1620297353";
Don't forget to check out my hubby's blog, Manning the Wall.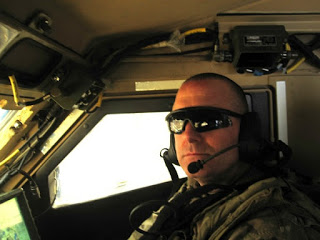 Never miss a post from Walking on Sunshine Recipes. Click on the box below to
Sign up NOW
and get new posts delivered to your inbox just once a week. I'll also send you a printable weekly menu to use to help plan your family's meals. You can also follow along with me on
Facebook
,
Pinterest
,
Instagram
and
Twitter
.