Well, I survived Saturday night.
It really was a lot of fun.
This was our second year attending the military ball up in Scranton, PA.
The ball is held in the old Lackawana Train Station
that has been converted into a hotel…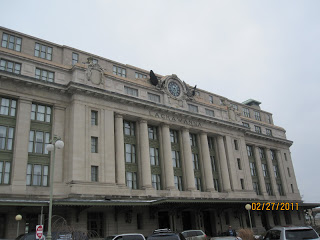 University of Scranton is part of the "group" of universities
for this ROTC northeastern PA section.
The ONLY way to look out the window in our room was to
stand on top of the desk under the window,
which is what the Colonel had to do to take the picture;
the window is so high up.
It was quite funny, but it's a converted train station and the windows
on the top floors are small.
The view from our room…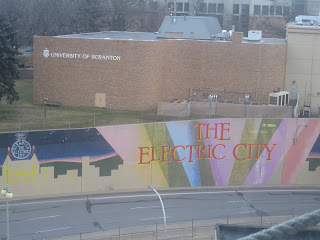 At the cocktail party in the hotel lobby.
Drinks only, no fun food…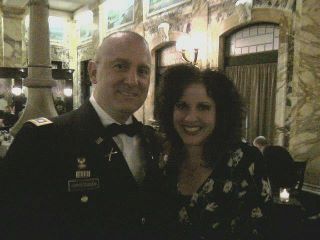 A display table…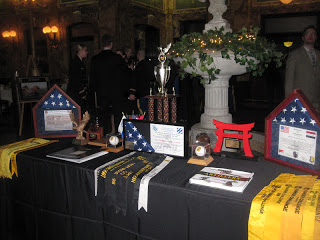 Some of the cadets that are in the program with the Colonel…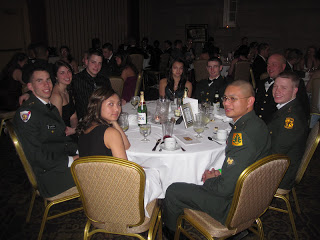 An outstanding cadet, James Gonzalez…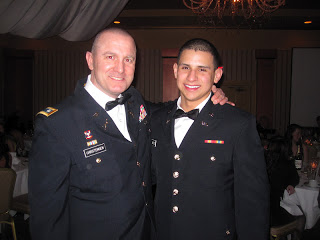 Our table…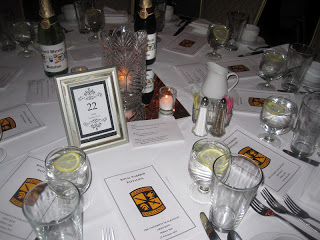 This picture is from last year.
There is a a restaurant in the hotel lobby where we had breakfast last year…
Beautiful stained glass…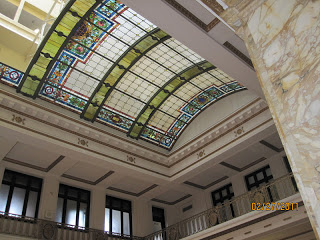 The highlight of the evening is the Grog Bowl…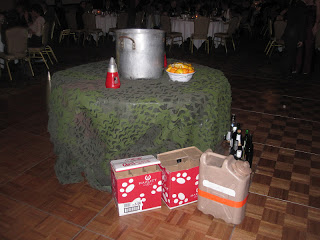 Different cadets dress up as various soldiers throughout the years
and give a little "speech" on their life in the military and add
a bottle of liquor to the big kettle on the table.
The cadets have a lot of fun acting as different soldiers
and the costumes are crazy.
There's plenty of music, dancing and liquor being added and then
the graduating cadets all line up and have a glass of the concoction while
the commanding officer gives a speech.
(Thankfully the Colonel will never have to be a part of this!)
The whole night was really nice.
I was able to meet the cadets that the Colonel teaches but more importantly,
I was able to sleep past 5:00 yesterday morning and
wake up to the lovely bell chimes from the Catholic Church
across the street from the hotel.
Please come back tomorrow for
Enjoy your day!