Two simple words…
When things go wrong,
do we really TRUST GOD?
I can honestly say I trust GOD and here's why…
Yes, I know it's been way too long that I've been gone, but
you'll never believe the week I've had…NEVER.
I don't even believe it and I lived through it.
I gave you all an update on how great my mom was doing.
An HOUR after I hit the "publish now" button
things went terrible wrong.
NOT with my mom, but with ME.
I didn't know what was going on but I knew something was wrong.
I started having the worse stomach pains
AGAIN
and the worse
vomiting a person should ever have to experience AGAIN.
I say
AGAIN
because this happened a few months ago.
The Colonel rushed me to the hospital where they kept me in
the ER for a few hours re-hydrating me and filling me with pain medicines.
And sending me home telling me I had a stomach flu/virus.
At that time, I thought THAT was the worse pain I had ever experienced in my life.
Well, I was wrong.
Really wrong.
Because the night of my mom's surgery I clung to the toilet trying
so hard not to pass out in front of my son, who was trying so hard to help me.
Remember, the Colonel was in Wisconsin and my mom was in the hospital.
I told him I needed someone to get me to the hospital and he called my friend, Olga,
who came and drove me the 15 miles to the nearest hospital.
While I was in the ER, Olga said she was afraid I was having a stroke.
My words were slurred and my blood pressure was dangerously low.
I don't remember much of what happened other
than wondering to myself
when the alien was going to rip open my stomach
and appear before everyone.
The pain was THAT bad.
I don't even want to go into the whole "trying to find the Colonel to let him know" situation.
Let's just say he had no clue what I was going through for about 12 hours.
But he was wonderful and was able to get on a plane and come home.
I guess the words, "She's meeting with the surgical team now" made the Army realize
he needed to be with me in Pennsylvania and not in Wisconsin.
The hospital kept me for 3 days.
Thankfully, I didn't need surgery.
They ran test after test, finally treating the intestinal infection I believe never left my system.
This was all happening while my mother was in another hospital
recovering from her open heart surgery.
I never felt so horrible in my whole life.
The past few days have NOT gone according to MY plan, and
I certainly do not understand why this had to happen,
but God has everything in control and I trust Him completely.
Oh, and my mom is doing GREAT!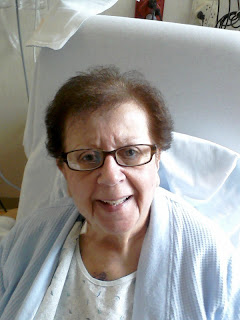 My sister took this picture 3 days AFTER surgery.
The first day I was able to visit with Mom again was last Sunday…
the day we brought her home from the hospital.
She is home and I'm trying my very best to get her to SLOW DOWN!
Thank you all for your prayers!