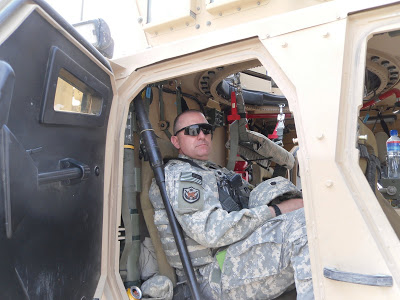 He's really NOT that scary!
He sent me this picture over the weekend. 
I have no clue what he's doing.
All I know is he's been gone 4 months and 
I miss him. 
He's settling in to his new post up in Northern Afghanistan.
He's still sharing a shipping container, 
but there's a wall between it so he has some privacy now.  
Still a tiny space, but it's much better than living in a tent.  
I have two boxes going out today for him filled with all the 
necessary items any hard-working soldier needs…
Reeces, Kit-Kats and his favorite National Review magazines.  
I'm off to the post office…Enjoy your day!