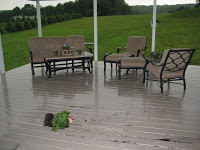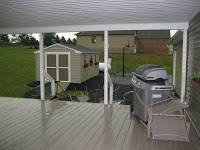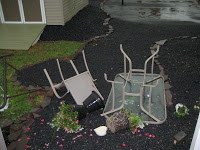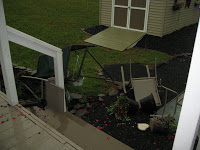 A few weeks ago I wrote about the "power of the wind" we have out here in good old Pennsylvania. Well, today I think we've had our worse experience with the wind in almost 5 years!
As you can see from the pictures above, we had a terrible thunderstorm, although, I really think it might have been a tornado! I was fixing dinner when the storm started. The lights kept going on and off. I was really worried about the furniture out on our back porch since it's been known to go flying at times, even though we purposely purchased HEAVY furniture!
First one chair went flying, then a plant was completely blown out of it's planter. Then the swing started to move and all of a sudden off it went! Then the other chairs around the table went flying and finally two of them blew into the new grill which even moved! But, it got stuck on the piece of plywood my husband (thankfully) placed under the grill to protect the deck from any drippings when grilling! The chair in the first picture doesn't belong there…it was blown from the other side of the couch.
We were just sitting down to dinner, I know it's amazing that my children still wanted to eat while all this was going on, when the heavy glass top table started to move ever so slightly. I actually considered going outside to try and stop it from leaving the porch when Olivia said, "It's just a table!" And besides it was raining so hard it was coming down sideways and the entire covered porch was drenched in rain and I was, after all, having a very good hair day.
I have two pretty planters at the top of the steps that were completely blown off the porch and even out of their planters as well! One planter thankfully was caught on the leg of a chair keeping it from flying away all together.
It was like this for about an hour when it finally stopped long enough for us to go out and try to pick up the pieces of our beautiful covered porch. I think the table may be broken. The glass is still okay, but the legs are displaced and not able to be snapped back in properly. Not sure about the swing either. I was able to lift the plants and place them back into their planters.
So tomorrow when all is calm I will try and clean off the porch. It is covered in dirt from the planters that flew away. The cushion from the swing is a mess as well. But, I'm thankful that nothing was too damaged beyond repair and that the kids and I are safe and our house stood up to the "power of the wind" once again.
This all reminds me of the song I chose 2 weeks ago for Wordless Wednesday, "My Anchor Holds." At times we feel our lives are being tossed around in the wind and the storms of life, not sure what's going to happen, where we'll end up after being tossed around, what's going to remain on our "porch." But we can be assured that as long as we have our anchors firmly planted in the hands of our Savior, we can withstand the storms of life, physical or spiritual that come our way.