Today I'm sharing with you a Thanksgiving Countdown Plan to help us all be completely organized for the biggest meal of the year!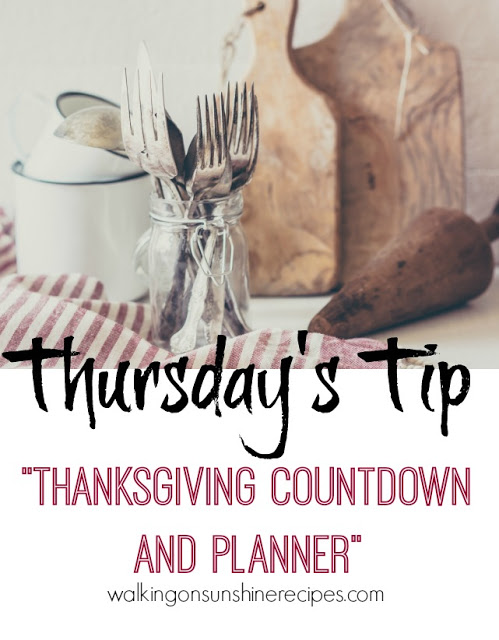 Thanksgiving is ONE week from today.
At first I typed the words "two weeks" and realized that Thanksgiving is next week.
I finally started doing some cleaning yesterday, but I really am
a little behind on getting everything together, so I thought
we would focus on a Thanksgiving Countdown Plan for this week's tip.

This post contains affiliate links. Your cost is the same, but I earn a commission when you shop through them. Your purchase helps support this site and the fun things I share. For more information, click here.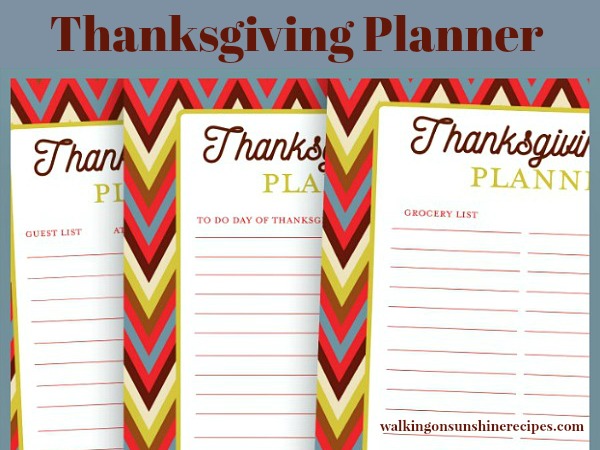 Thanksgiving Countdown Plan
Place china or dishes you will be using out on the dinning room table or where you plan on sitting down for dinner…don't forget your stemware!

Select the serving platters you will be using.

LABEL the serving platters, so you know exactly where everything will go on Thanksgiving.

If you are serving buffet style, get your buffet warming trays out and ready.

Take the turkey out to thaw in refrigerator at least 3 days ahead.
Wash and chop all veggies for the stuffing or any other necessary side dishes. Place in a ziplock bag or a small plastic container and store in the refrigerator.

If you need extra tables or chairs, gather them NOW and put them in the dinning room.

Iron tablecloth and napkins…set table.
Assemble any casseroles or dishes to be baked on Thanksgiving day.

Prepare stuffing for turkey but do NOT stuff the turkey (refrigerate until morning)

Prepare appetizers…dip, mini quiche, etc.

Prepare vegies and slice cheese for appetizers. Place in a ziplock bag and store in the refrigerator.
Add stuffing to Turkey and cook turkey according to directions.

Peel and cut potatoes for mashed potatoes (let set in water until ready to cook)
1-2 Hours before guests arrive:
Make Mashed Potatoes (keep warm on stove top)

Bake any side dishes (keep warm on stove top)

Steam any fresh vegetables you are serving…green beans, carrots.

Once the turkey is cooked, remove from oven and cover with aluminum foil until you're ready to slice it. I like to slice my turkey before my guests arrive.

Place the biscuits or rolls on a baking tray and have them ready to go in the oven 30 minutes before serving.

Make gravy from drippings.
Put some lipstick on. Make sure you take off your apron.
Light a few candles, put some pretty music on.
And most importantly, don't forget to take plenty of photos of your table and the food.
YES, everyone takes a photo with the turkey on the platter!