This week's question is something
that I thought of recently as I was preparing to spend
the day doing what I love…
Cooking and Cleaning for my family.
Here goes…
"Do YOU have an outfit that you always wear
when you're working around the house?"
For me the answer is easy…
YES!
Here I am in my favorite, old comfy shirt getting
ready to spend the day cooking and cleaning.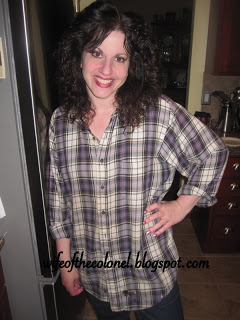 Now, don't be shocked, but I've had this shirt for over 20 years.
It originally was the Colonel's shirt and I "stole" it from
him when I was pregnant with Olivia.
I remember the very first day I put this shirt on!
We were preparing to work outside in the
yard raking leaves one beautiful fall morning
and I realized that NOTHING in my closet would fit.
I reached into the Colonel's side of the closet and grabbed this shirt
and it has remained on MY side of the closet ever since.
Here we are 20 years ago, I'm about 5 months pregnant…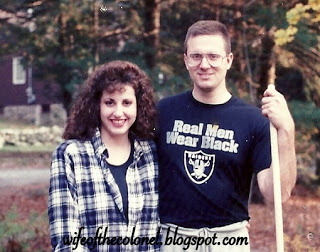 Over the years, I've had different denim shirts and t-shirts
that I've worn to do household chores, but for some reason
I always seem to come back to this plaid shirt,
maybe because the Colonel used to wear it.
So, let me know if YOU have a special
"cleaning and cooking" shirt as well.