We've had a few crazy, fun-filled days here at
Walking on Sunshine.
Need to catch my breath, but FIRST I need to ask you
this week's Tuesday's Question!
"Does your family have any pets?"
We DON'T…
However, that hasn't stopped a few uninvited "Guests" from
appearing around our house.
This "guest" showed up last summer while the Colonel
was away in Washington State with the cadets…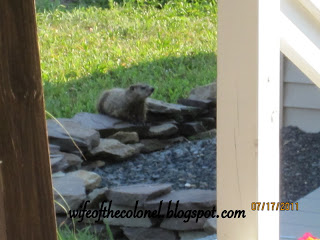 Yes, I had to set the trap myself…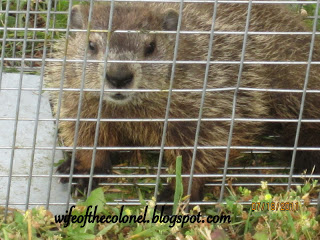 But thankfully, our neighbor helped me transport our "guest"
to his new home, down by the river…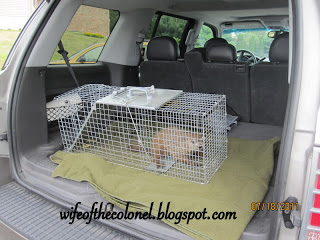 The year the Colonel was in Afghanistan, another "guest"came to visit,
thankfully the Colonel was home on his 10 day
break and HE set the trap this time…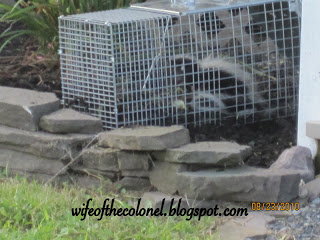 YES, that's a SKUNK in the trap.
He was living UNDER our back porch.
I knew something was under there, just didn't think it was a skunk.
Thankfully, the Colonel was home and he set the trap and called
a friend to come over and "take care" of our "guest."
Then this past March, we noticed another "guest" in our back yard.
Only this "guest" was slightly confused.
He kept roaming around the yard, digging holes.
He kept getting closer and closer to the back porch and I knew if we didn't
do something, he would make himself comfortable on our
back porch furniture.
We knew he shouldn't be out in the daytime and we suspected from
his odd behavior that he was sick and perhaps had rabies.
So we called another friend, Nelson, who's
a retired NYC police officer to help us…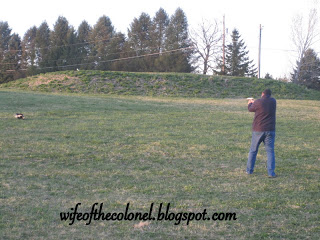 YES, he is aiming his gun at another skunk…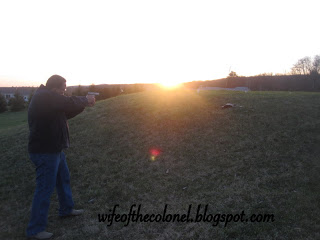 Finally, after 3 days of digging holes in our yard,
with a little help, the skunk stopped…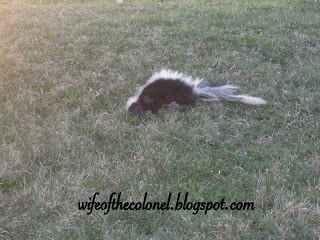 So, let me know YOUR answer to this week's Tuesday's Question,
"Does your family have any pets?"
Did I mention that I'm originally from
Queens, NY?
Enjoy Your Day!