This week's Tuesday's Question came to me yesterday
because of something we did as a family LAST week.
"What was the last movie you
saw in a movie theater?"
Normally I would have to think really hard to answer this question
because very rarely do we go to the movies.
They're just so expensive and the Colonel's schedule is so full
that we don't really have time to see movies on a regular basis,
not to mention that the closest theater that's NICE is a 35 minute drive.
HOWEVER,
that all changed last week because we saw
not ONE but TWO movies.
Last Tuesday we went to see
The Avengers…
It was GOOD, but anything with Robert Downey Jr. lately is GOOD!
Then on Sunday, after church of course, we finally saw
The Hunger Games…
Michael insisted on waiting to see the movie until AFTER
he finished reading the book.
I thought the movie was good, a little long, but good.
Here's a picture of Olivia and me waiting for the movie to start…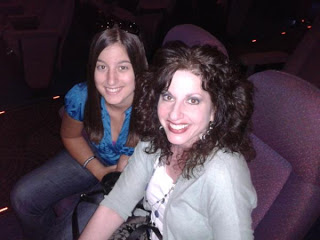 So, now it's YOUR turn.
"What was the last movie you saw in the movie theater?"
I'm heading to the airport this afternoon to pick up the Colonel.
He left yesterday morning to DRIVE a school van to Kentucky.
And today he FLIES home!
Sounds confusing, but that's life in the Army!
The cadets need the van for their summer training, which is done in Kentucky.
Enjoy your day!