We've all been there.
Guests arriving for Thanksgiving and we're overwhelmed trying to get the meal on the table,
get everyone something to drink all while trying to be the "Hostess with the Mostess."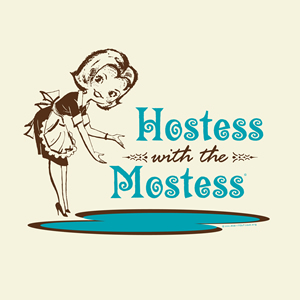 Here are some GREAT tips to help YOU prepare for your Thanksgiving Day
meal and help you look like the perfect hostess.
A week or so BEFORE Thanksgiving, plan out your menu.
Once you have your meal planned out, decide on which platters
and serving dishes you want you to use.
Plan out HOW you want to serve your dinner.
Do you want to carry all the platters and bowls into the dinning room and pass them around the table?
Or do you want to serve buffet style?
If you're having a small gathering, I suggest carrying the platters into the dinning room and beginning
with the head of your table, usually your husband, have him take from the platter, serve himself
and then pass the platter to the guest on his right.
Please do NOT just put all the platters and bowls on the table and have everybody start "reaching."
If you are having a large gathering, I suggest setting up a buffet table.
Do this a few days BEFORE Thanksgiving.
This is what we did last year, I set up the buffet table in our kitchen.
I didn't use any "fancy" platters, I went for EASY cleanup…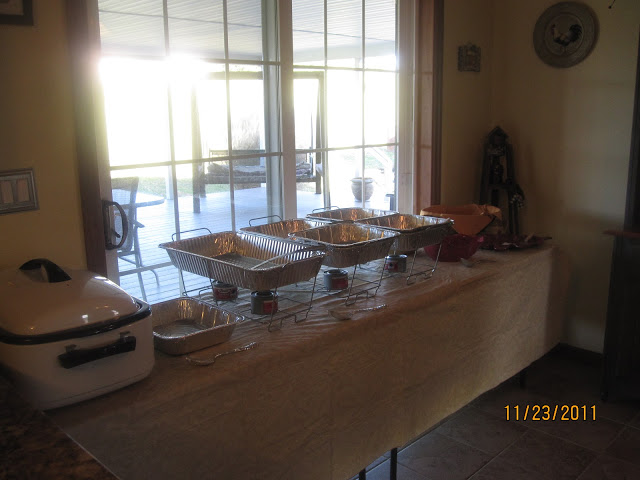 Label each tray with what food you plan on using it for.
Also, place the serving utensil in each tray…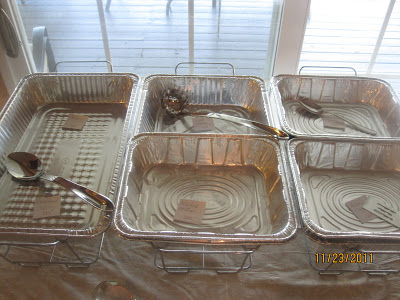 Now, WHERE do you plan on serving your appetizers?
Plan this out also a few days before also.
Last year, I set up a table in the dinning room…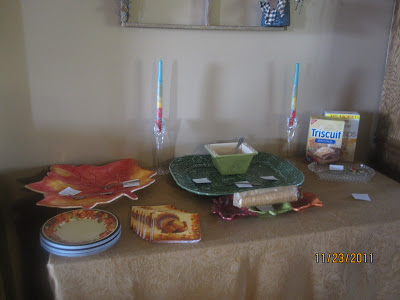 YES, label everything AGAIN!
This really does help, especially if family and friends are helping you…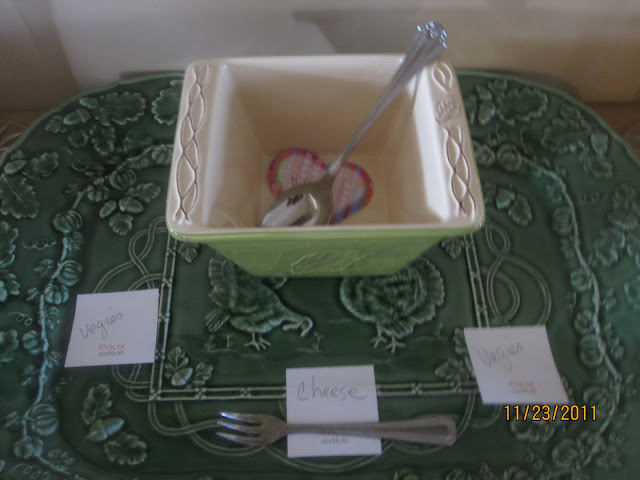 Plan out your seating arrangement a few days early as well.
Last year we had 19 people at our table, so I made a simple chart to help me…
Bring in extra tables if needed.
We have this extra smaller table in our basement that we placed right next to
our dinning room table. Once covered with tablecloths, they work perfectly together…
And please don't forget to set a pretty table! You can and should do this a few days early also.
Thanksgiving is the time to get out your pretty dishes and glasses…
If you would like to see how to make the centerpiece, go HERE.
And, YES, place cards help!
Now, on to some "housekeeping" tips.
Please make sure your dishwasher is EMPTY, even if this means you have
to run it before everyone arrives…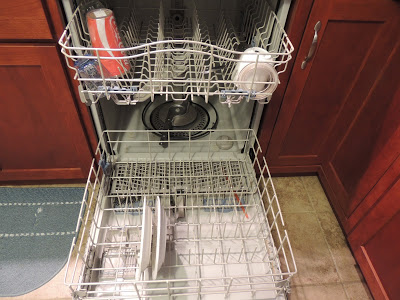 Don't forget to empty your garbage pail…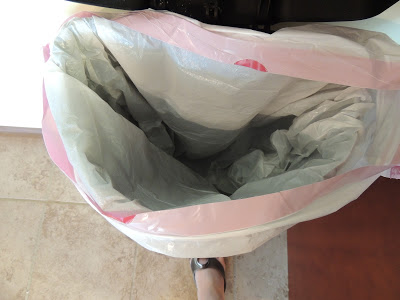 I hope you'll find these tips useful.
They really do help to make a busy day in the kitchen a little easier by planning ahead,
but more importantly, they help you ENJOY your family and ENJOY the meal
you spent THREE DAYS cooking for!