It can't be…next week is Christmas? It just seems that I was pulling this out of the oven YESTERDAY…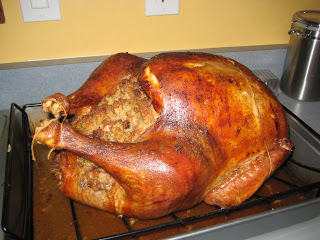 I just can't seem to get into the fun of Christmas yet. The house is decorated, most of the presents have been purchased; but the fun isn't there for me. Maybe if I was cooking or having company…maybe if I was doing some baking…maybe if I was in the Christmas cantata…maybe if my dad was here, a bunch of maybes that all lead back to the fact that I can't get into Christmas this year.
I have been spending too much time reading other blogs…I really love doing that, but it's been a bit depressing lately to see how well other people have decorated! I feel like I just threw everything up and in my eye, it looks pretty, but then I do some surfing on different blogs and realize how inadequate I feel about EVERYTHING, and not just Christmas!
I need to spend less time comparing myself to other people and other blogs and spend more time concentrating on the true meaning of Christmas. Not the decorations, not how someone's house looks, or the lack of homemade goodies, but the fact that this is the birthday of my Savior and without the manager I wouldn't have the saving grace that the Cross provides for me.
So maybe I need to be less like Martha this year and more like Mary, the mother of Jesus. I think she fully understood what was about to happen to her and to the rest of us with the birth of her baby. She understood that a baby wasn't just going to be born, but a Savior, the promised Messiah. I think I need to slow down a bit and just concentrate on the fact that this tiny baby has changed my life forever.
"My soul doth magnify the Lord and my spirit hath rejoiced in God my Savior." Luke 1:46-47