It seems life has gotten very busy for me.
My Colonel is enjoying his new job.
He's teaching ROTC at a nearby university.
AND part of his new job included
a MILITARY BALL!
So a few weeks ago we headed to Scranton and stayed at this beautiful hotel
which use to be the old train station…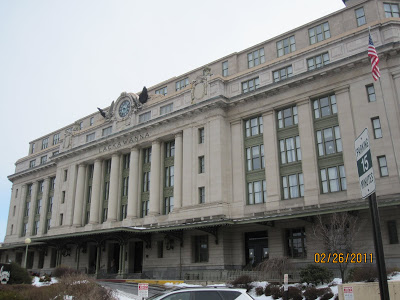 The lobby was so beautiful.  
The ceiling was filled with stained glass panels.
And TONS of marble.
There was a restaurant in the lobby where we had
breakfast the morning after the ball…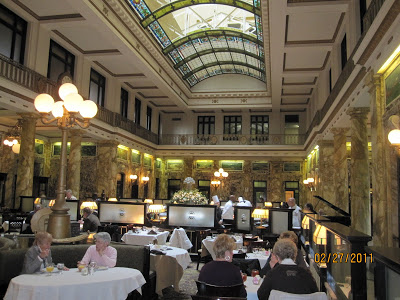 Here I am sitting in a little alcove in the lobby
during the cocktail hour…
Here's my Colonel in front of the display from the university…
Well, that's about it for now!
I have been reading blogs, it's just so hard to make the rounds and comment.
Anyone else finding it hard to do that lately?
I'm on Facebook all the time.
If anyone wants to connect that way,
my profile name is on the left hand side of the blog!
Enjoy your Monday!