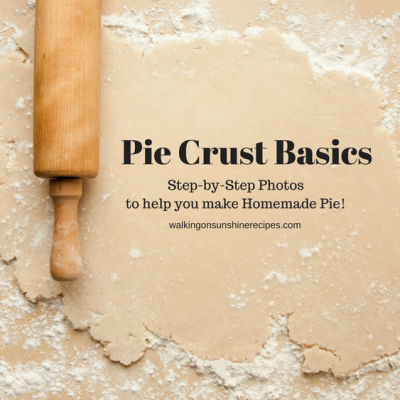 Follow these easy step-by-step instructions and you'll have the most tender and flaky pie crust to use for any recipe!
This recipe is for ONE pie crust.
Combine the flour and salt together.

Using a pastry blender or two forks combine the shortening into the flour until it looks like cornmeal.

Using a fork, add the water one tablespoon at a time and incorporate the water into the flour/shortening mixture.

Keep adding the water, one tablespoon at a time, and keep stirring until the dough begins to come together, pulling away from the sides of the bowl and forming a ball of dough.

Remove the ball of dough from your bowl and shape it into a flat disc.

Wrap in plastic wrap and chill for about an hour before using.
I like to have a bowl of water with ice cubes in the refrigerator ready to use once the shortening and flour is combined completely. That way I know the water is as cold as it can be. You want very cold water for a flaky pie crust.