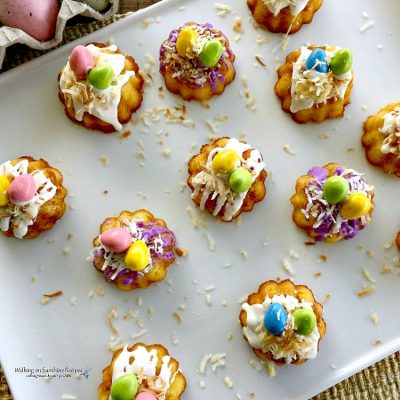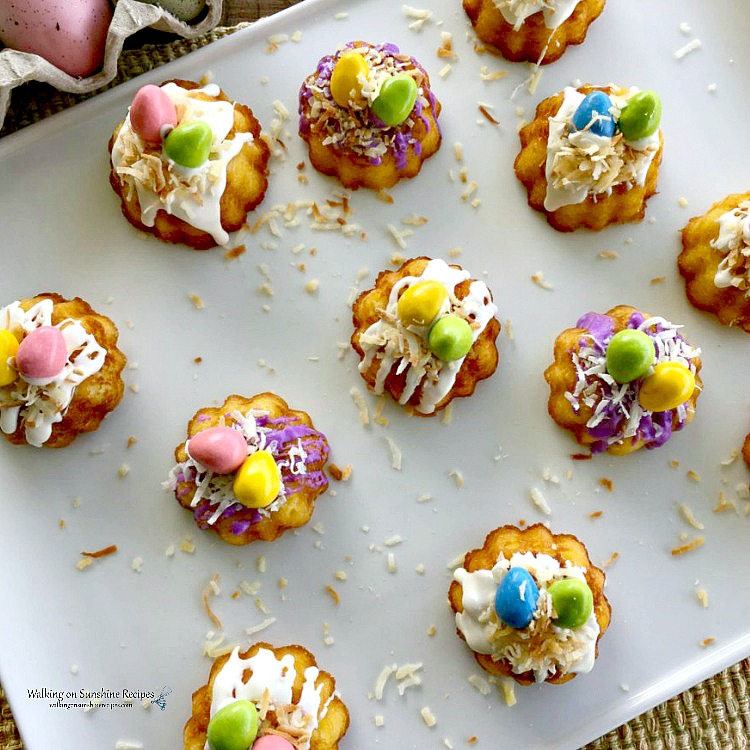 Mini bundt cakes can be used for any occasion or holiday. I used chocolate mini eggs to decorate them for Easter and colorful sprinkles for a birthday celebration.
1

box vanilla cake mix - 15.25 ounce

1 - 2

containers of icing - 16 ounce size each. I chose cream cheese icing and a vibrant purple icing to decorate.

Mini chocolate candy eggs or sprinkles to decorate

Shredded coconut
Prepare the cake mix according to the directions on the back of the box.

Divide the batter evenly and pour into the mini bundt pan that has been sprayed with non-stick cooking spray.

Bake in a preheated 350 degree oven for about 15 minutes. Checking frequently to make sure you don't overcook the cakes! My mini cakes were done in 10 minutes.

Let the cakes cool for about 5 minutes or so before removing from the pan. Place on a cooling rack to cool completely before decorating.

Place half the cream cheese icing in a microwavable safe bowl and heat for 10 seconds. You do not want the icing to be too melted, so be careful not to over-melt.

Drizzle the icing over the mini bundt cakes.

Add the coconut to the top of the mini bundt cakes right away.

Add the mini chocolate eggs to the top of the cakes. You may need to dip the bottom of the eggs in the icing to act as a glue so they stay on top and don't fall off.
You will not use all the icing.
I chose to toast the coconut for my mini bundt cakes.