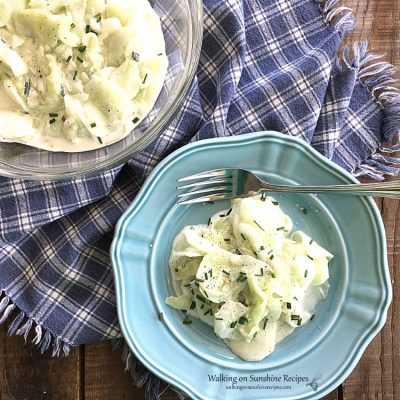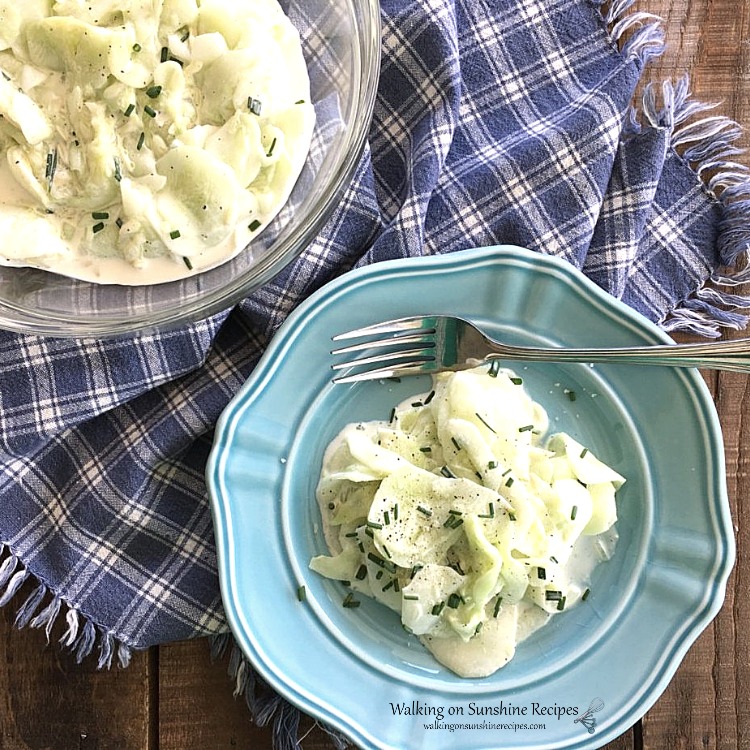 Just like my Oma used to make. You're going to love this easy recipe that's perfect for all the cucumbers growing in your garden this summer.
2

tbsp

vinegar

2

tbsp

mayonnaise

2

tbsp

sour cream

1/2

tsp.

sugar

1

tbsp

chopped chives

Salt and Pepper

2

medium sized cucumbers
Peel the cucumbers if desired and thinly slice them with a mandoline slicer. The thinner the better!

Place the cucumbers in a colander and salt them...generously.

Cover the cucumbers with paper towel and place the colander over a bowl to allow the cucumbers to drain the excess water for at least 2 hours.

Squeeze the cucumbers to remove any excess water...you want them as dry as possible.

Add the cucumbers to a bowl and prepare dressing.

Combine all the ingredients for the dressing in a small bowl and then pour over the cucumbers. Toss gently to combine.

Cover and refrigerate for at least 4 hours before serving.
Cook Time is actually how long to refrigerate until serving.  You want to serve this cucumber salad cold.