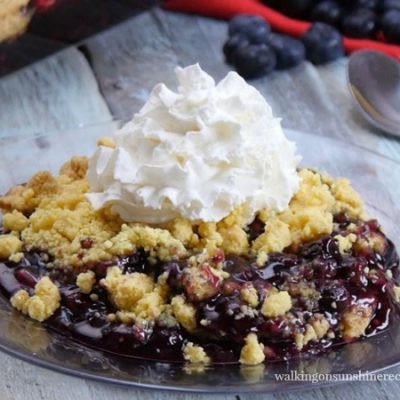 Blueberry Lemon Dump Cake will be one of the most easiest and delicious cakes you'll ever bake!
Keyword:
Dump Cake, Blueberry
Preheat oven to 350 degrees.

Pour both cans of blueberry pie filling evenly into the bottom of a 9X13 glass baking dish that has been coated with non-stick cooking spray.

In a medium mixing bowl, combine the dry lemon cake mix with the melted butter.

Stir with a spoon until the mixture turns into small crumbs.

Pour the butter/cake crumb mixture evenly over the pie filling in the baking dish.

Bake for 30 minutes or until the sides are hot and bubbling.

Serve warm with fresh whipped cream of vanilla ice cream.