Today is Day Two of SIDE DISHES.
Today's dish is another dish that I've been making for awhile
and when I made it last week, the Colonel said to me,
"Have you shared this recipe with your blogger friends?"
I said, "No, it's just cauliflower."
Well, as you can see, he persuaded me to share this
"just cauliflower" recipe with you today.
Cauliflower with Creamy Cheese Sauce...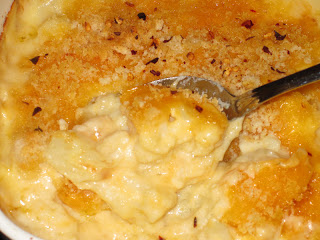 The cheese sauce I use is the SAME sauce for
Olivia's Mac and Cheese.
It's a beautiful cheese sauce and really easy to prepare.
AND it freezes great.
Ingredients
(Cheesy Cream Sauce)
2 Tbs. butter
2 Tbs. flour
2 cups half and half (I've used fat free and it works great)
1 chicken bouillon cube
One good squirt of mustard (I use a horse radish flavor)
salt and pepper
1 cup WHITE cheddar cheese
1 cup Monterrey Jack cheese
Let's begin!
Melt 2 Tbs. butter in a heavy sauce pan...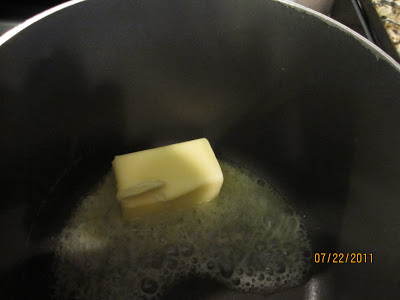 Add the 2 Tbs. flour and combine with the melted butter.
Add the 2 cups of half and half and cook until slightly thickened...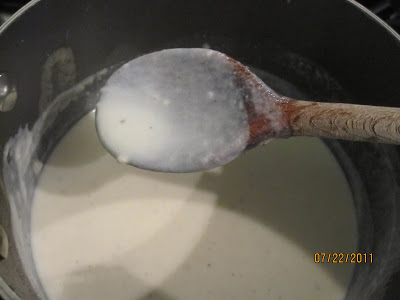 Add the squirt of mustard, salt and pepper and the bouillon cube.
Continue cooking until the mixture thickens.
Add the 2 cups of cheese...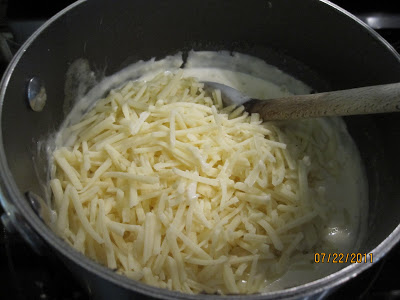 Remove from heat and continue to stir until the cheese has completely melted...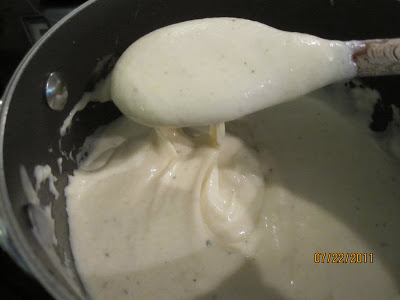 Creamy Cheese Sauce complete!
Now, depending on how much cauliflower you're cooking,
you're NOT going to use all the creamy cheese sauce.
Don't worry.
The creamy cheese sauce freezes GREAT.
Or save the extra and use it again as Mac and Cheese
in the next few days.
Now, let's move on to putting the dish together!
Ingredients:
Cauliflower that has been cut into smaller pieces
(I used about 2 cups of cauliflower)
1 cup shredded cheddar cheese
½ cup Panko OR regular bread crumbs
(Panko bread crumbs give a nice crunch)
Creamy Cheese Sauce
(I used about 1 cup of sauce)
Place the cauliflower in a container and microwave for a few
minutes until it is fork tender...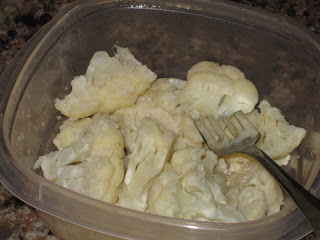 Place your cauliflower in a casserole dish,
pour the creamy cheese sauce over the cauliflower...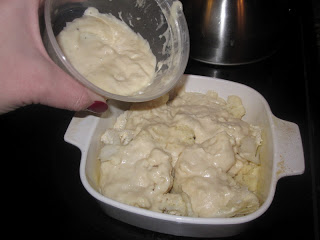 Sprinkle the Panko bread crumbs and shredded
cheddar cheese on top.
Pretend you see the Panko bread crumbs here...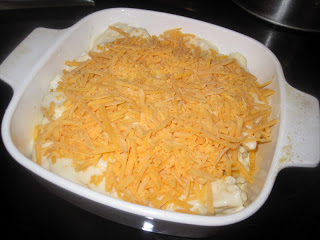 Bake at 415 degrees for about 15 to 20 minutes
or until the cauliflower is bubbly...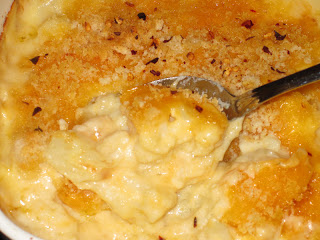 So delicious!
On the menu at our house tonight:
Pot Roast
Buttered Noodles
Cauliflower with Creamy Cheese Sauce
Enjoy your day!
Tomorrow is DAY THREE..
I'm thinking Green.
Come back and see!