My family's favorite Christmas Cookies. These are recipes I grew up helping my mother bake every year. They're perfect for gift-giving. Your family will love getting together to bake these easy dessert recipes every holiday season.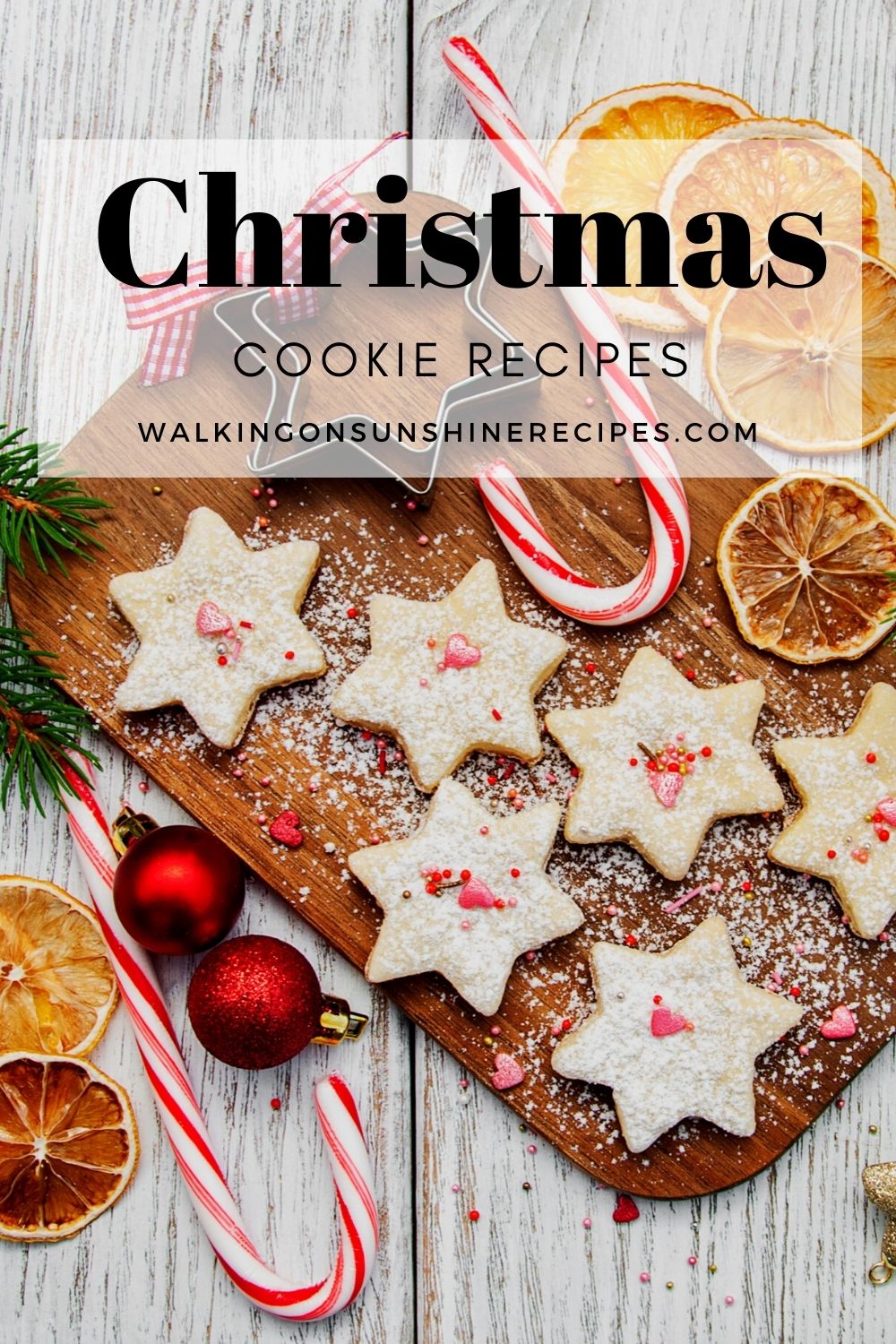 Ask anyone to share with you a favorite memory and most will say, "baking Christmas cookies." Walking on Sunshine Recipes is celebrating the start of the Christmas season with 12 Days of Christmas Cookies.
As with all the recipes you find on my site, these are EASY Christmas cookies you can make with your children, grandchildren or just by yourself to enjoy this holiday season.
Free Printable Recipe Cards
Here's a fun gift idea! Make a batch or two of Christmas cookies and add the recipe to these Free Printable Recipe Cards to add the gift package.
Everyone loves to receive cookies over the holidays!
Another fun idea would be to create fun Mason Jar Cookie Mix Gift Ideas. Put the ingredients together in a mason jar and give as a gift or use for hosting a cookie exchange,
Be sure to check out all the yummy Easy Cookie Recipes featured on the blog if you're looking for more classic every day type of cookies.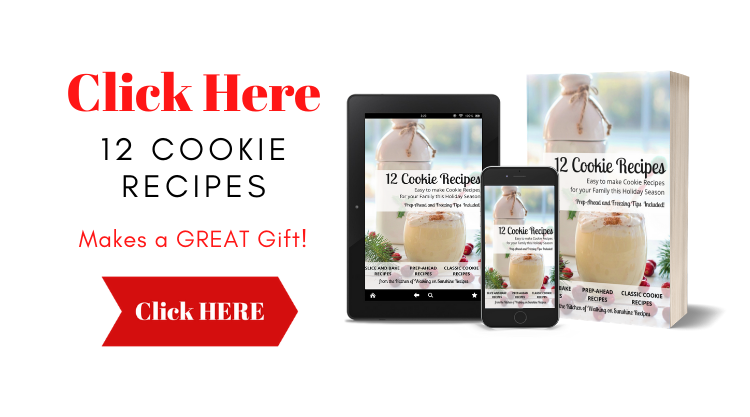 Christmas Cookies
Heart Shaped Short Bread Cookies - I have been making this cookie recipe for over 30 years and it always comes out perfect.
Best Italian Christmas Cookies - my mom's famous recipe for the best cookies ever! Seriously, these cookies are great all year long, but especially fun during the holidays. They hold up great for shipping, freezing and gift-giving.
Puff Pastry Christmas Cookies - delicate twists of baked puff pastry dipped in melted chocolate with colorful Christmas sprinkles.
Candy Cane Sugar Cookies - how cute are candy canes? Well, they're even cuter when you can dip them in a glass of cold milk. Yummy sugar cookie recipe in the shape of a candy cane.
Chocolate Marshmallow Peppermint Cookies - chocolate sugar cookie dough topped with a marshmallow and sprinkled with crushed peppermint candies.
Peppermint Christmas Cookies - chocolate cookie dough balls rolled in sugar and then stuffed with a peppermint candy kiss. A fun twist on a family-favorite cookie.
Diabetic Christmas Cookies - bake cookies for family and friends who can't enjoy a full sugar cookie over the holiday season.
Marshmallow Christmas Cookies - chocolate cookies stuffed with M&M candy pieces and dehydrated marshmallows.
Italian Ricotta Christmas Cookies - A Family Tradition - my family has been enjoying these Italian Christmas Cookies for years!
Raspberry Jam Shortbread Cookies - my new favorite cookie. I literally could eat this whole batch in a day. Seriously.
Slice and Bake Cookies
Slice and Bake Colorful Swirl Cookies - I finally updated this cookie recipe from when it first appeared on the blog back in 2012.
Freezer Friendly Slice and Bake Shortbread Cookies - another shortbread cookie recipe only this recipe you can freeze!
Vanilla Chocolate Slice and Bake Cookies - a pinwheel style cookie that my family loves. You can freeze these too!
Drop Cookie Recipes
White Cake Mix Christmas Cookies - let's make cookies that are EASY and ready fast with this cake mix hack recipe.
Classic Oatmeal Cookies - my father's favorite cookie recipe. He loved oatmeal cookies and I bake these every year in his memory.
Walnut Chocolate Chunk Cookies - not just chocolate chip cookies, but chocolate chunk cookies with walnuts!
Hot Chocolate Marshmallow Cookies - made with hot chocolate mix blended right into the cookie dough! Who knew that by adding hot cocoa mix to a cookie batter you'd get such a delicious tasting cookie?
Gingersnap Cookies - classic Christmas flavor in a classic Christmas cookie recipe.
Chunky Peanut Butter Cookies - classic peanut butter cookies only made with chunky peanut butter for a bit of a crunch!
Double Chocolate Chip Cookies - take the best of a chocolate chip cookie, only add cocoa powder to the cookie batter and you get this irresistible cookie.
3 Ingredient Christmas Cookies - yes, you can bake cookies using only three ingredients. These are a few of our favorites!
No-Bake Christmas Cookies
Oreo Christmas Cookies - the perfect no-bake recipe the whole family will love helping you make this holiday season.
Christmas No Bake Cookies - take store-bought cookies and make them festive by adding melted chocolate and fun Christmas sprinkles.
Oreo Cookie Truffles - made with only 3 ingredients...well four if you count the sprinkles!
Tips on Packaging Christmas Cookies
Affiliate Disclosure:  This post may contain affiliate links. As an Amazon Associate I earn from qualifying purchases. For more information, click here.
Here are some great ideas for packaging the Christmas cookies you baked to give as gifts to family, friends and neighbors.
More Information
More Information
More Information
More Information
More Information
More Information
Cookie Labels
There are quite a few different gift labels and tags available in the WOS Christmas Shop. I hope you'll click on over and check those out!
A fun way to seal the packaging for your Christmas cookies is to use these stickers. I love the "From the Kitchen" stickers.
More Information
More Information
More Information
More Information
More Information
More Information
More Information
More Information
More Information