Drinking more water is one way to help us all lose weight!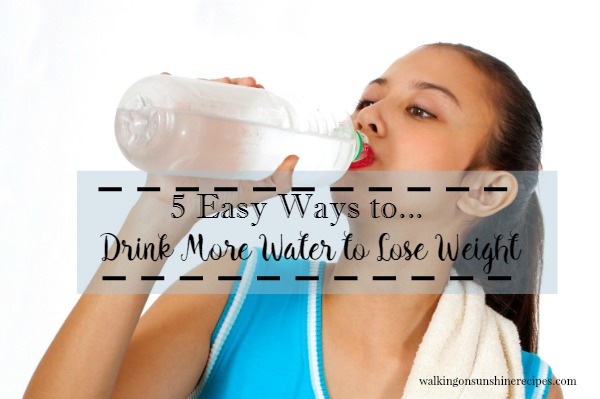 Did you know that drinking water helps you lose weight?  
The answer is YES! Drinking water helps boost your metabolism and helps cleanse your body of
waste and can help suppress your appetite.  You need at least 8 to 10 glasses of water to help with your weight loss every day.
This week's tip will show us 5 easy ways to drink more water to help us all reach our goal to lose weight.
5 Easy Ways to Drink More Water
Drink a Glass of Water before Every Meal
Water is a natural appetite suppressant.  Drinking a glass of water before every meal can help you feel fuller and help you eat less.
Replace Calorie-Filled Drinks with Water
Get rid of the soda, juice and other calorie filled drinks in your house if you're trying to lose weight. This includes diet soda as well.  I do enjoy a diet soda every now and then but when I'm concentrating on losing weight, I'll only drink water and allow myself a diet soda if we go out to eat as a treat. If you think you're going to miss the sugary drinks, try adding a slice of lemon or lime to your water. Even cucumbers sliced thin will make the water taste delicious!  My husband lost ten pounds a few years ago just by giving up sugary soda.  It does work!
Drink it Cold
There is nothing more refreshing than a glass of ice cold water.  Drinking ice cold water will boost your metabolism because your body has to work harder to warm the water up and you'll burn more calories!
Helps with Working Out
Drinking water helps keep your joints and muscles lubricated so you'll be able to work out better and maybe even longer!
Track Your Water Intake
Since I have been trying hard to lose weight, every morning when I wake up I drink a glass of water before I even make my way downstairs.  AND then I keep track of how many glasses I drink.  If you just "think" you drink eight glasses a day, you might be surprised once you start keeping track of how many glasses you actually do drink a day.  I make eight little boxes on my desk calendar every morning and I check them off as I refill my glass with water.
Don't forget to measure how much water your favorite cup actually holds!  I went searching for a cup that held 2 cups of liquid, so I only need to fill it up 4 to 5 times to reach my goal every day.

Here are some great water bottles to help YOU drink more water every day…
Disclosure: This post contains affiliate links, I may be compensated for purchases made through these links.
More Information
More Information
More Information
More Information
More Information
More Information