Let me show you how to transform a simple tube of refrigerator dough into easy, delicious sweet or savory crescent roll recipes. You can fill, stuff or even use the dough as a crust to create amazing recipes and easy desserts the whole family is going to love.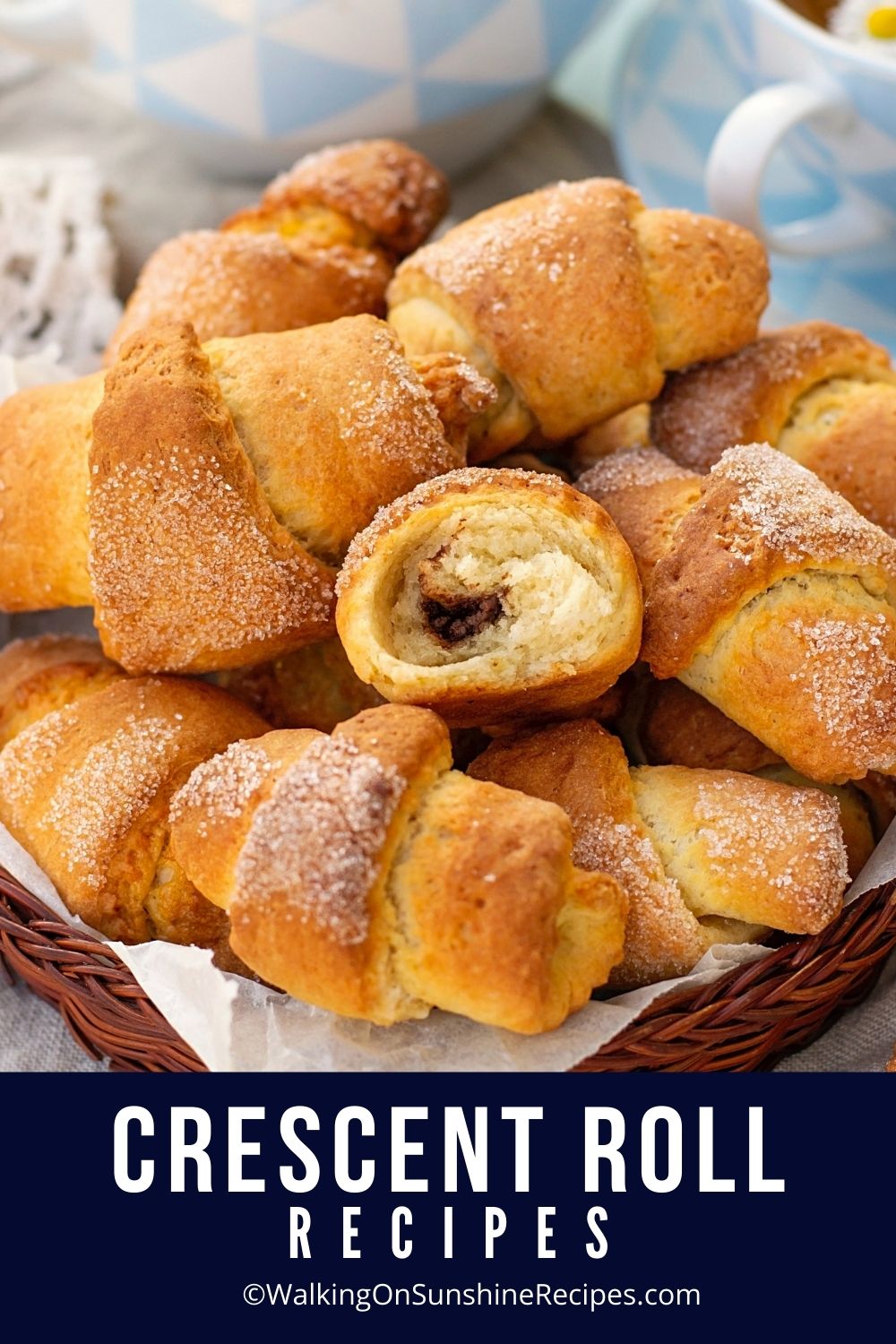 Whether you need a quick breakfast, brunch, dessert or even dinner recipe, using crescent roll dough is going to give you a recipe that will impress!
I've been using crescent rolls as a base for recipes for years. Even before I had my blog. Actually one of the first recipes I posted on this site was my Crescent Roll Fruit Tart.
It's so delicious and easy to make! In fact every time I made it and served it to my dad, he asked me what bakery it came from.
Helpful Kitchen Tools
This post contains affiliate links. That means that if you make a purchase after clicking on a link I may earn a small commission at no extra cost to you. For more information, click here.
More Information
More Information
More Information
More Information
How to Unroll Crescent Rolls
Open the tube of crescent rolls by peeling away from the tab right under the top of the can. Find the perforated edge of the dough and gently roll the cylinder of dough flat.
Separate the dough into 8 triangles. Then roll up the triangles starting at the wide end.
Place on an ungreased cookie sheet or a cookie sheet lined with parchment paper.
Shape the rolled dough triangles into the crescent or "half moon" shape before baking.
How long to Bake Crescent Rolls
If you are baking crescent rolls straight from the tube, bake them in a preheated 375°F oven for about 11 minutes or until they are golden brown.
Now if you're following a specific recipe that uses crescent rolls as a base, you'll need to make sure you follow that recipe for normal baking time.
Crescent Rolls Calories
There are 231 calories in one crescent roll.
What to make with Crescent Rolls
Here are just a few ideas of what you can make, spread on or roll up with crescent rolls:
Cinnamon and Sugar
Peanut Butter or Nutella
Sprinkle chocolate chips on the dough before rolling up.
Softened cream cheese with fresh berries.
Flavored butter; try my Homemade Garlic Butter recipe.
Mozzarella sticks with pepperoni slices.
Leftover taco meat or sloppy Joes.
Roll cooked hot dogs up in crescent rolls and bake. You could spread a little mustard on the dough before placing the hot dog in place.
Crescent Roll Pie Recipes
Stuffed Crescent Roll Recipes
Shaped Crescent Roll Recipes
Pizza Crescent Rolls
Crescent Roll Recipe Collections
Frequently Asked Recipe Questions
Is crescent roll dough the same as puff pastry?
Crescent roll dough is made with a few layers of butter and dough, while puff pastry is made with hundreds of layers! They can be used interchangeably, but you will have a lighter, flakier dessert if you use puff pastry dough.