Losing weight is the #1 New Year's Resolution made by most people.  Is it yours too this year?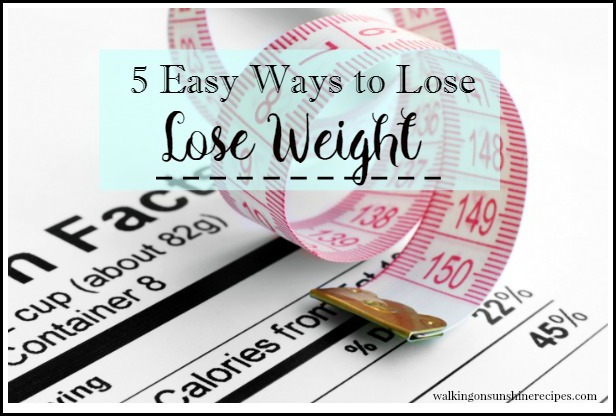 What is the one goal you have for the new year?
If your answer to that question is to lose weight, you are not alone! According to Statistic Brain, losing weight is the #1 New Year's Resolutions made by most people.And it's been my goal since 2016 to lose weight.  Living with lupus has not been fun and the past few years have been pretty horrible.  I had some success over the summer and now that the holidays are over, I want to continue with my weight loss journey.  Here are FIVE easy ways to help us all lose weight.  
This post contains affiliate links. Your cost is the same, but I earn a commission when you shop through them.  Your purchase helps support this site and the fun things I share. For more information, click 
here
.
5 Easy Ways to Lose Weight
Sure, we'd all like to lose 20 pounds in 2 weeks, but that's not a realistic goal.  One half to two pounds a week is about right.
Weigh Yourself Every Morning
Some people will tell you not to to this, but weighing yourself every morning will keep you motivated.  Keep in mind that your weight will fluctuate from day to day.


Plan Your Meals
Take some time at the beginning of each week and plan out what you're going to eat for every meal every day.  Keep in mind that if you want to lose weight, you need to reduce the amount of calories you consume every day.  Pay attention to portion sizes as well.
Keep Track of Everything you Eat
Dieters who keep track of everything they eat lose twice as much weight as those who don't.  So write everything down.  At the end of the first week, see where you can cut extra calories by reading through what you've eaten every day.  Sometimes it can be something as easy as switching your creamer to skim milk for your coffee every morning.  Or maybe you need to stop having that snack after dinner.
Exercise
This is a hard one for me because my joints hurt so much, but research does show that exercise helps. Burning as little as 200 calories a day can help you lose up to a few pounds a month.  Exercise can be as simple as taking a walk outside or doing a few simple weight baring exercises.  Exercise makes you feel good and helps you have control over losing weight and reaching your goal.
So how about you?  What are some of your goals for the new year?