Today is a special day…it's our Blogiversary!
A year ago today was our very first post on my other blog, Daily Dish Magazine.
And we are celebrating BIG with this huge giveaway from Anolon…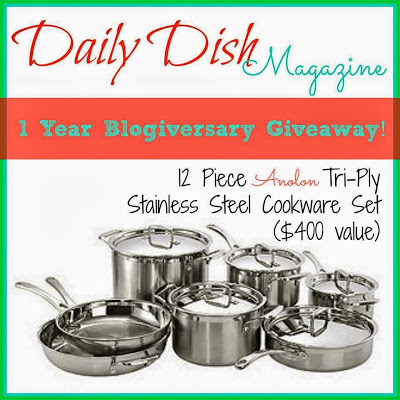 It seems like yesterday when I joined
Foodie Friends Friday
and at the same time it seems like I've know these ladies for years. When Tracy decided to create
Daily Dish Magazine
, I was right on board. It was just what I needed…a new way to share my love of cooking and decorating. I have learned so much in the past year from this wonderfully talented group of ladies. I hope you have enjoyed the posts as much as we have enjoyed sharing them with you.
We have now published over 1,000 articles and our readers are growing every month. I am so blessed to be a part of this wonderful magazine and I can't wait to see where the future takes us! AND we recently started a new part of Daily Dish Magazine with our Facebook page,
Bloggers Best Homemade.
We would love for you to join us and SHARE your recipe and crafting links.
Since it's such a BIG milestone for us to be celebrating our blogiversary,
we had to find a BIG giveaway!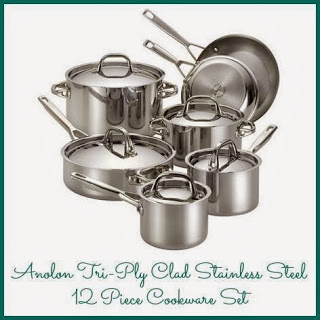 12 Piece Set Includes:
1.5 Qt. Covered Saucepan
2 Qt. Covered Saucepan
3.5 Qt. Covered Saucepot
8 Qt. Covered Stockpot
8.5″ French Skillet
10.25″ French Skillet
4 Qt. Covered Saute
Daily Dish Magazine sent you and thank them for this tremendous
opportunity and amazing giveaway!
Enter Anolon Giveaway Here!