A few years ago my husband and I were out to dinner in Florida and we had the most delicious salad of fresh greens and fruit with a balsamic vinegar glaze.  It was amazing.
 I couldn't get enough of the delicious balsamic vinegar glaze. A few weeks ago, I ordered a grilled chicken
salad and there it was again…drizzled on top.
 This week's tip is how to make Balsamic Vinegar Glaze…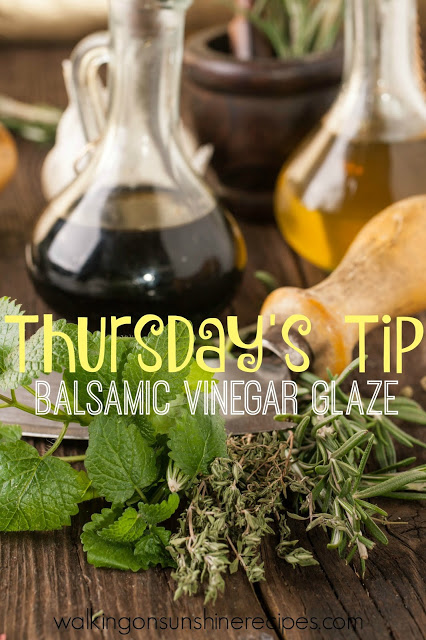 But first, let's find out what balsamic vinegar is exactly.
It is a reduction made from grapes, but it is not considered a wine vinegar
because the grape juice that is used is not made with fermented grapes.
The production of balsamic vinegar resembles that of wine making.
 Balsamic vinegar is an aged reduction of white sweet grapes that are boiled to a syrup.
The grapes are cooked very slowly in copper cauldrons over an open flame until the water content is reduced by over 50%. The resulting "must" is placed into wooden barrels and an older balsamic vinegar is added to assist in the acetification.
Each year the vinegar is transferred to different wood barrels so that 
the vinegar can obtain some of the flavors of the different woods.
 The only approved woods are oak, cherry, chestnut, mulberry, acacia, juniper, and ash. 
The age of the vinegar is divided into young – from 3 to 5 years maturation; middle aged 6 to 12 years and the highly prized very old which is at least 12 years and up to 150 years old. 
To make Balsamic Vinegar Glaze…
In a saucepan, mix one 16 ounce bottle of balsamic vinegar with 1/2 cup sugar
over medium heat, stirring constantly until sugar has dissolved.
 Bring to a boil, reduce heat to low, and simmer
until glaze is reduced by half, about 20 minutes.
Glaze should coat the back of a spoon.
 Let cool and pour into a jar with a lid; store in refrigerator for up to two weeks.
Enjoy Balsamic Vinegar Glaze on any type of grilled meat or vegetable.
My favorite is drizzled on top of a salad and yes, with fruit…