There's something about a rainbow in the sky that shows how beautiful life can be. But in order to get the rainbow, sometimes you have to go through a storm. The beauty before the storm often brings a beautiful colorful rainbow to remind us that God is always with us...even with the storms that life throws at us.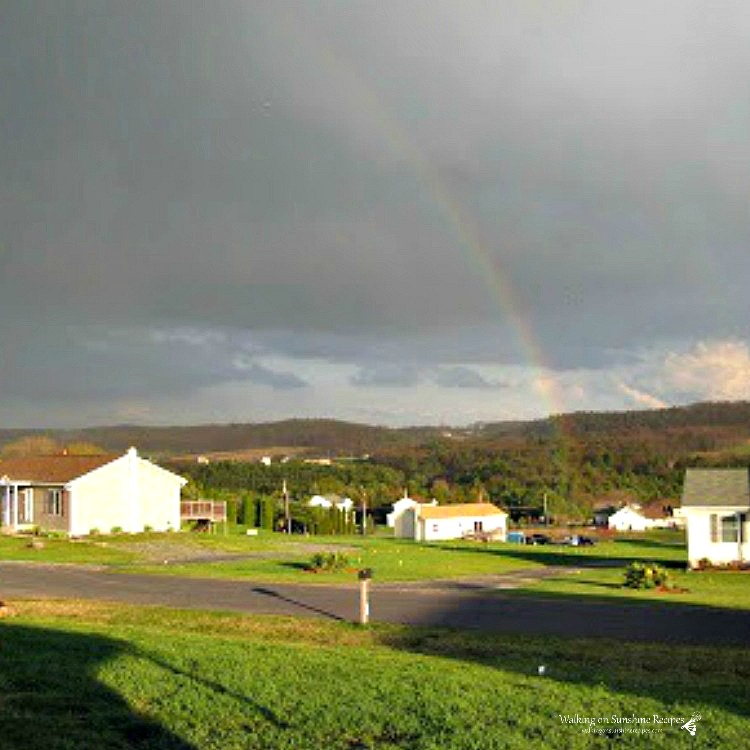 Can you see the rainbow? This appeared about 5 minutes after a huge storm in my corner of the world yesterday. The rain came started so suddenly. First the rain, then the hail and then more rain.
The Beauty Before and After the Storm
It was a beautiful storm that passed through here Tuesday night.
Thankfully, nothing flew off our back porch...this has happened before. You can read about a storm I wrote about last summer. I lovingly called it, "The Power of the Wind." A little joke between the Colonel and me!
How does this apply to life here yesterday at Walking on Sunshine?
Well, Tuesday Michael was feeling better. We went to the dentist for a check up and he said, "Everything looks great." Wonderful.

Michael woke up yesterday morning with a 101 fever and a sore throat. Not so wonderful. I couldn't get in to see the doctor till almost 2:00. Michael laid on the couch moaning the whole morning. He was in so much pain.

At the doctor's office, he thought Michael's throat was so swollen it was constricting his airway, "We need to have an xray of this!"

WHAT??? So off to the hospital. The doctor at the hospital says, "I think I see an abscess in the back of his throat blocking his airway. He needs a CAT scan."

WHAT????

Needless to say, everything worked out fine. Michael does not have any abscesses at the back of his throat. What he does have is a good case of tonsillitis, making his throat very swollen.

Yes, so just in case you're new here...Michael had 10 baby teeth pulled 10 days ago making it very difficult to eat...NOW his throat is swollen to the point the doctors thought his airway was constricted.

What do you think this poor kid can eat today???
You can read more about my fun son in this Happy Birthday Michael post I wrote awhile ago.