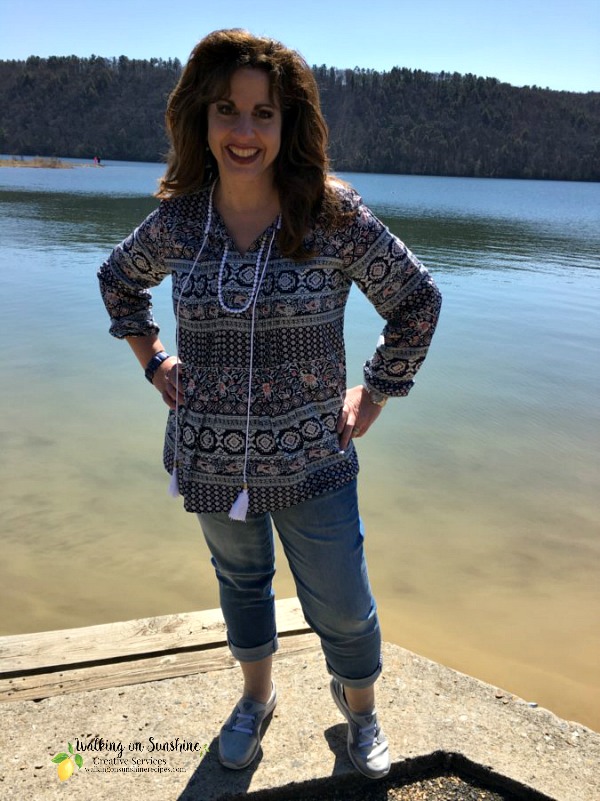 What do you like to do on a beautiful day?
Spring may have "sprung" where you live, but in our corner of the world Spring has taken its sweet little time showing up. We even had a snowstorm or two. But I'm happy to say that last Sunday the weather was beautiful and it was the perfect day for a walk at the lake by our house.
It was also the perfect day to wear my new outfit from Chadwicks of Boston! I'm excited to be teaming up with them to share with you this great pair of jeans and beautiful pheasant blouse.
DISCLOSURE: I AM PARTICIPATING IN A COMPENSATED CAMPAIGN WITH THIS BRAND. THE STYLING AND THE WRITTEN WORDS ARE MY OWN.
Chadwicks of Boston has a wide selection of apparel to choose from....in fact, it took me quite awhile to narrow down my selection! They have everything from career suiting separates, comfortable leisurewear to beautiful dresses in sizes from misses to petite, tall and plus sizes.
It's been awhile since I've looked through their catalog but I'm happy to say this is the same Chadwicks of Boston! Still trusted, still reliable and still affordable!
Chadwicks of Boston Fits Every Body
I first chose a pretty dress but then decided to keep it casual with jeans and a new blouse; as this is usually how I dress. Here's what I chose:
Tassel Tie Print Blouse
: Elasticized cuffs; relaxed silhouette. Keyhole neckline, front pleats and dotted detail along neckline and placket.
Alex Relaxed Fit Boyfriend by JAG® Jeans: Classic boyfriend jeans with five-pocket styling and a touch of stretch. Coin pocket and cuffs feature charming ribbon trim detailing. Fly front with button closure.
I was little worried that the "boyfriend" jeans wouldn't fit correctly, but I used their new fit guidelines and was very happy how great they fit when I tried them on. I think these will become my favorite jeans to wear! They are so comfortable.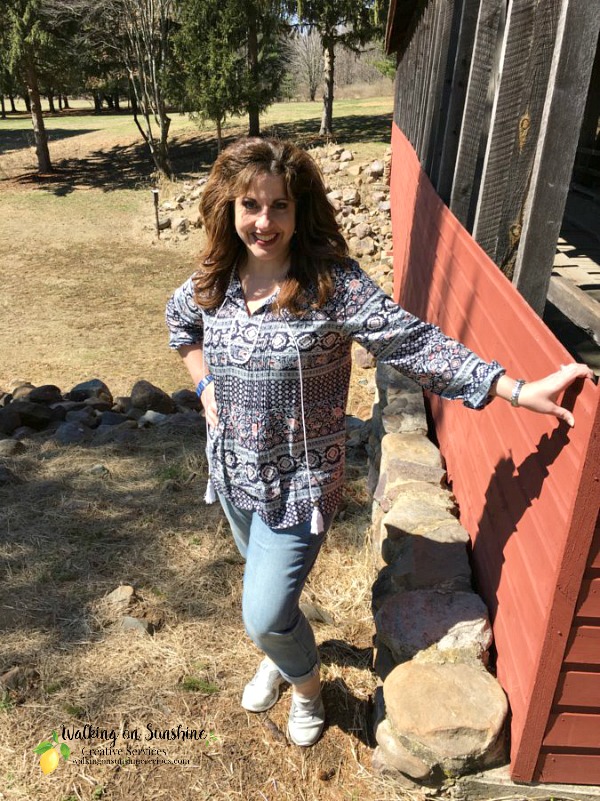 The jeans really do fit better than any other jeans I own. I love how they can be worn with the cuff rolled up or down. I was going to wear them as full leg jeans but then I saw the detail on the inside cuff and decided to wear them cropped and rolled up the cuff a few times. Look how cute that cuff is!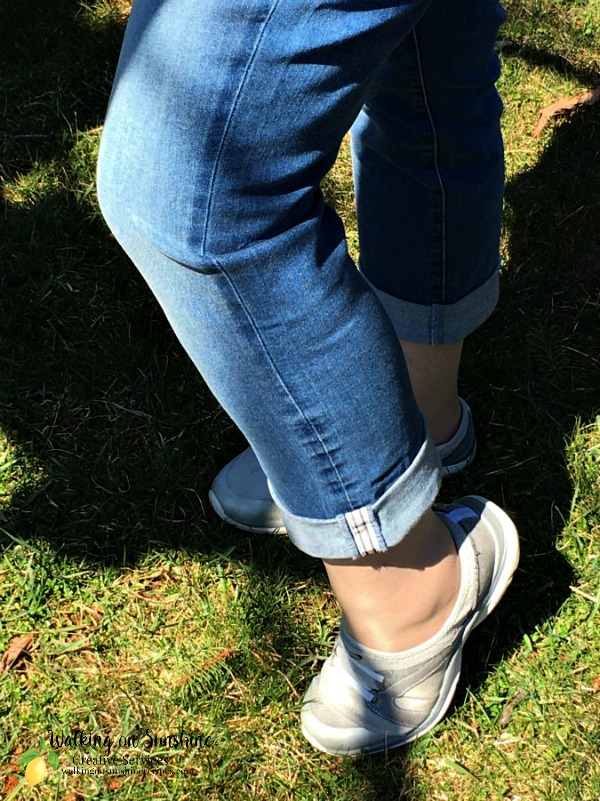 The whole time my husband and I were walking around the lake I kept commenting to him as to how comfortable my jeans felt. If you're like me, that's not always the case! Jeans can be very tight and conforming...but not with these jeans.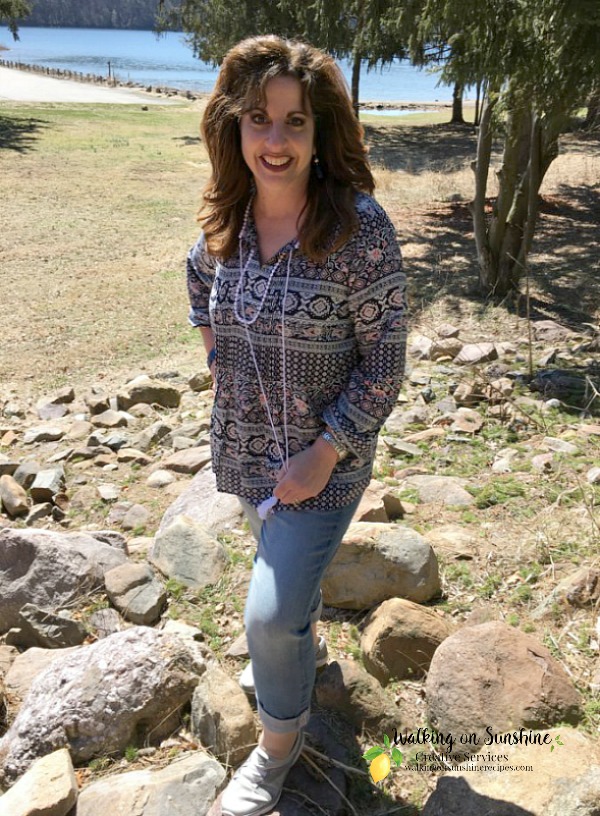 The blouse looked really cute too. I love the design and style of a pheasant blouse, don't you?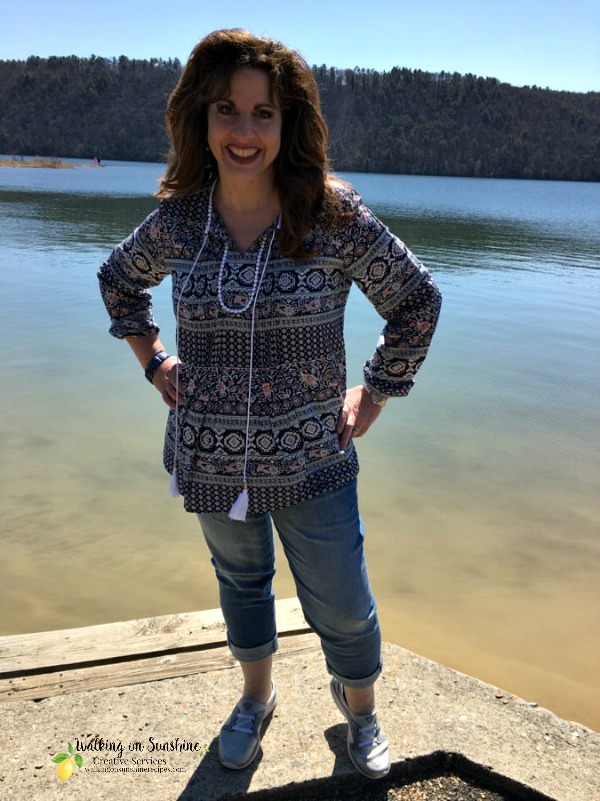 One last photo of the lake. It was so beautiful last weekend.