Finding the perfect Christmas tree
is something everyone wants when they head out to a Christmas tree farm
or to the woods to cut down their Christmas tree.
But do you really know what to look for when choosing a Christmas tree?
Do you know the difference between all the
varieties of Christmas trees?
This week's Thursday's Tip is going to help you with
choosing the perfect Christmas tree for your family.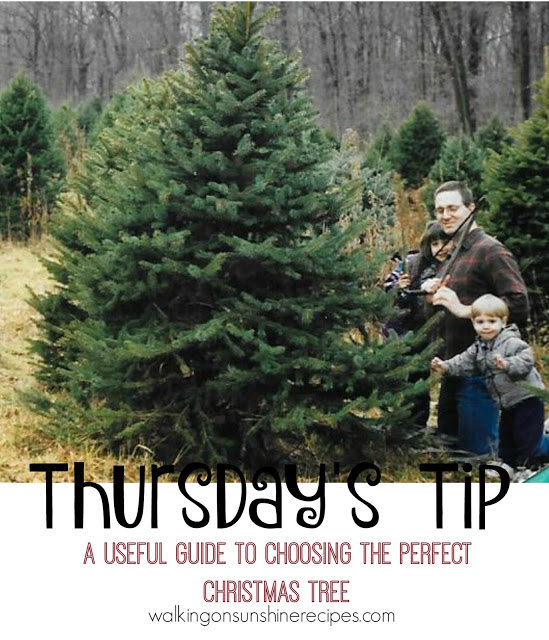 Yes, that's MY family from just a "few" years ago.
We loved going to a local Christmas tree farm when the kids
were younger to cut down our own tree.
The custom of Christmas trees developed in early Germany that can be traced
back to the 15th or 16th century in which devout Christians brought
decorated trees into their homes.
The trees were traditionally decorated with edible items such as apples, nuts or other foods.
People started to use candles in the 18th century and then with the
invention of electricity, Christmas lights.
Today there is a huge variety of ways to decorate Christmas trees.
Most homes have more than one!
At the top of most trees there will be an angel or star to represent the
Archangel Gabriel or the Star of Bethlehem from the nativity.
There are many types of Christmas trees for you and your family
to choose from when you enter a Christmas tree farm.
There are also different varieties within each type of Christmas tree.
Here is a list of the country's favorite trees…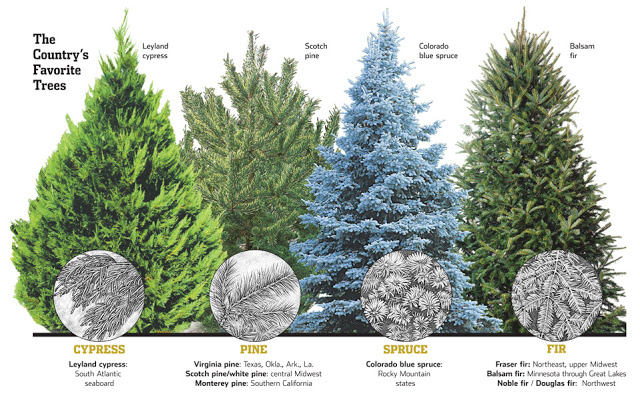 Cypress Trees
Cypress Trees are popular trees that are grown in the south. This type of tree drops very few
needles and with proper care will stay fresh through the entire Christmas season.
Pine Trees
There are many types of pine trees but the most popular is the White Pine.
The white pine has soft, flexible needles and is bluish-green in color.
White pine trees are not recommended for heavy ornaments.
Blue Spruce Trees
Blue Spruce trees are popular because of the the bright blue color. The branches are also stiff and can hold ornaments well. The needles, however, are very sharp and you need to make sure to wear long sleeves and gloves when dealing with this type of tree. Some people choose this type of tree to keep their pets away from the tree.
Fir Trees
Within the fir tree family, you have Douglas Fir, Balsam Fir and Frasier Fir to name a few of the more popular trees. Most fir Christmas trees have a beautiful scent that lasts throughout the Christmas season. They have soft, shiny needles that grow on both sides of the branches. Of all the types of fir trees, the Frasier tree has the most sturdy branches to hold heavier ornaments.
Whichever tree you choose, make sure you water it daily to keep it
looking and smelling fresh.
Make sure you follow my Christmas board on Pinterest!