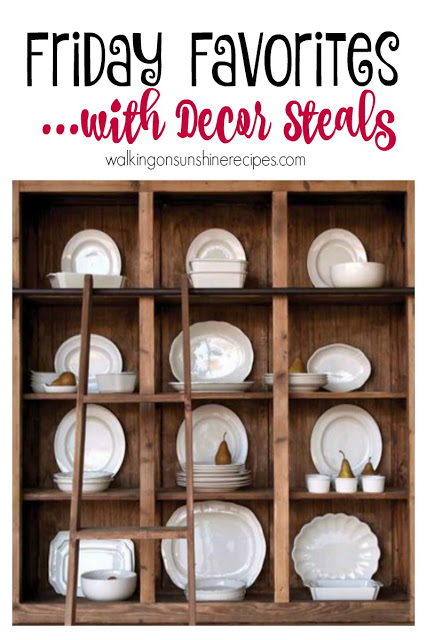 Have you heard of the company Decor Steals? 
I've been a fan of Decor Steals for over a year now and have ordered
a few things through their website.  I love the items they sell and
I love everything I have purchased from them.
This week's Friday Favorites is all about Decor Steals!
This post contains affiliate links.  
Your cost is the same, but I earn a commission when you shop through them. 
Your purchase helps support this site and the fun things I share.
For more information, click HERE.  
Decor Steals features daily home décor and vintage reproduction
 sales events of up to 80% off retail. Decor Steals offers home décor, interior design inspiration,
 and home decor products at incredible savings focused around
 industrial home decor, shabby chic design,
vintage reproductions and industrial style home decor.
And I'm so happy to finally be able to share with you that I am
now an affiliate for them!
What does that exactly mean?   Well, from time to time I'll be sharing
some of my very favorite items with YOU!You need to be quick because they do sell out FAST!
Here are this week's Friday Favorites...