I've partnered with Idahoan on this sponsored post and all opinions stated are my own.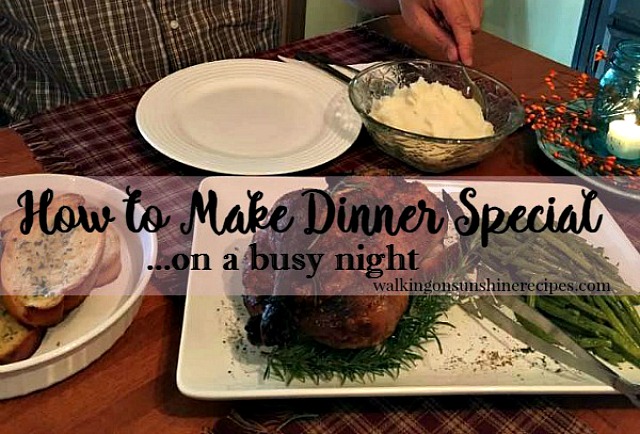 How do you make dinner special on busy nights?
Growing up in our house my mom always prepared dinner for us every night. And over the years I've done the same for my family. But lately, it's been hard to find the time where we can sit around the table to enjoy dinner and talk about our day; especially now that the kids are grown and life is so busy with my blog.The other day I was running a bit late with everything and I wasn't sure what to do for dinner, so I asked my hubby to bring home a rotisserie chicken from our local grocery store. To go with the chicken, I was going to make the Idahoan Signature Russets as our side dish along with green beans and garlic bread.
I'm not usually a fan of pre-packaged food but I was asked to try out the new Idahoan Signature Russets and I thought why not? Let's have roast chicken for dinner with mashed potatoes and make tonight a Sunday dinner type of meal, even if it is Tuesday!
When it comes to mealtime, Sunday dinner is the gold standard as it's the one day of the week when you're most likely to go "all out" and prepare a great-tasting meal. New Idahoan Russets mashed potatoes are so delicious that when served as part of a weekday dinner it makes "any day taste like Sunday."
I have never been a fan of instant mashed potatoes. But let me tell you these instant mashed potatoes are amazing. The secret, of course, to the great taste of new Idahoan Signature Russets is that Idahoan potatoes grown to perfection in Idaho's rich volcanic soil during its warm summer days and cool summer nights. In fact, more than six pounds of premium Idahoan russet potatoes go into every 16 oz. pouch. But beyond that, Idahoan is innovating the category with its new proprietary processing method that maintains the potato's natural goodness and texture. The result: mashed potatoes that taste as good as if you peeled, boiled, and mashed them yourself.
And since I didn't have to make homemade mashed potatoes, I had some extra time to set the table and light a few candles.
Hubby enjoying our dinner of roast chicken, mashed potatoes, garlic bread and green beans.
New Idahoan Signature Russets can be made in only five minutes using milk and butter…or just water! But more importantly, how do they taste? They taste amazing! They have a nice smooth taste like original homemade mashed potatoes with just a hint of butter and cream.