How to save and display Old Family Recipe Cards by turning them into a wonderful piece of Kitchen Art filled with memories!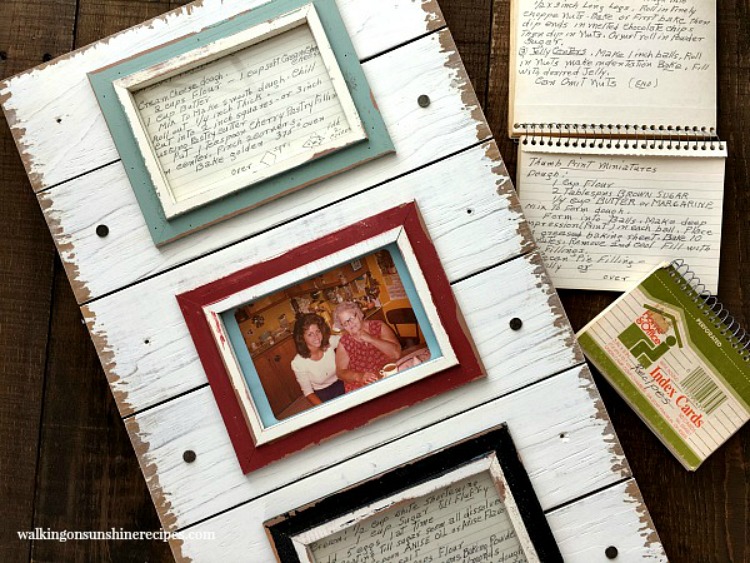 How to Display Old Family Recipe Cards
Do you have a recipe card collection? How do you store your recipe card collection?  Or maybe you have old recipes from family members just gathering dust in a recipe box or a kitchen drawer?
Today I'm sharing with you a fun way to display old family recipes with this project to help you create fun DIY kitchen art for your home that will bring a smile to your face every time you enter your kitchen.
My grandmother was an amazing cook.  She lived in Youngstown, Ohio and we lived in Queens, NY, so we only were able to visit every other summer.  I remember being a little girl and when my mom would call my grandmother a week or two before our trip to Ohio, my sister and I would get on the phone and make our "request" to Grandma for what we wanted her to cook for us.
At the top of the list was homemade pizza.  My grandmother made the very best homemade pizza ever. A few weeks before our visits, she would make a ton of pizzas that she would freeze so we could have homemade pizza every day we were there...and we did!  One year she made over 20 pizzas for us!
 Old Family Recipe Cards
When I was a teenager, my grandmother sent my mother a couple of recipe index cards like the ones below.  I know there were more, but I have two.  Over the years I made a few of the recipes, but lately they cards have been sitting in my kitchen drawer.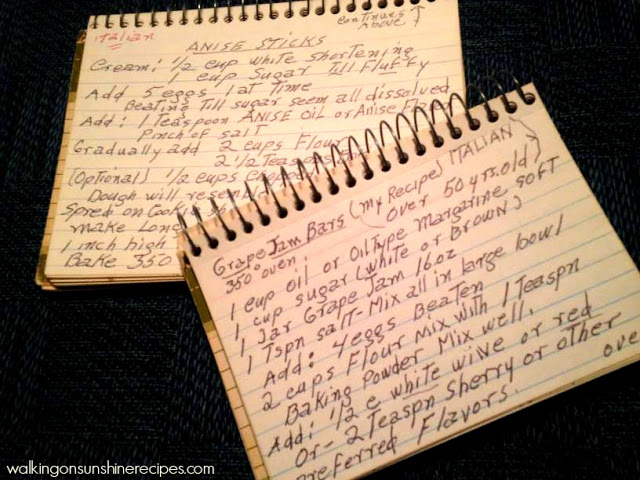 I've seen a few different ideas on Pinterest on displaying the old recipe cards and always thought, "someday."  Well someday finally came when I put together this DIY framed recipe card art for my kitchen a few weeks ago.
Framing Handwritten Old Family Recipe Cards
Supplies Needed
Choice of picture frame
Recipe cards
Family photos
This is a really easy project to do.  You need handwritten recipe cards and a frame.  I also added a piece of fun wall art to hang above my completed project.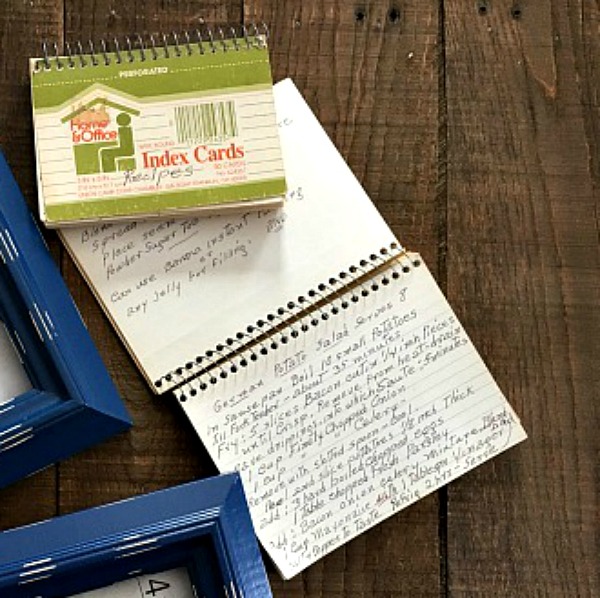 Select the recipes you want to frame.  I was careful not to cut the recipe cards and I didn't attach them to any additional paper since most of my grandmother's recipes are printed on the front and back of the index cards. You can find a similar frames by checking out my Shopping List at the bottom of this post.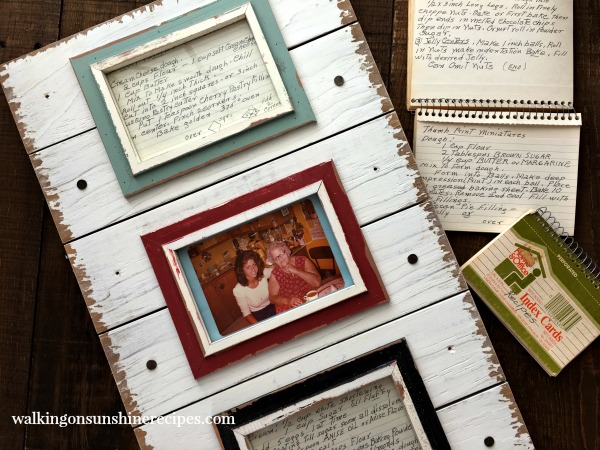 I included a photo of my grandmother and I that was taken when I just turned 18.   This was early in the morning when we were leaving my grandmother's house to continue our trip to Missouri where I went to college.  Yes, that is me!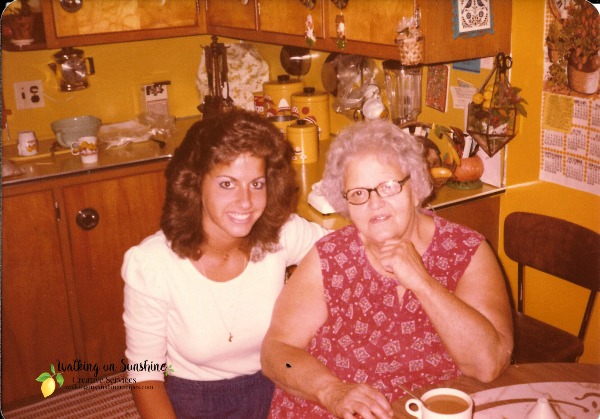 I decided to add a piece of wall art above the framed handwritten recipes in the kitchen.  I think it looks great with the type of frame I selected.  You can find the sign I used also in the Shopping List at the bottom of this post.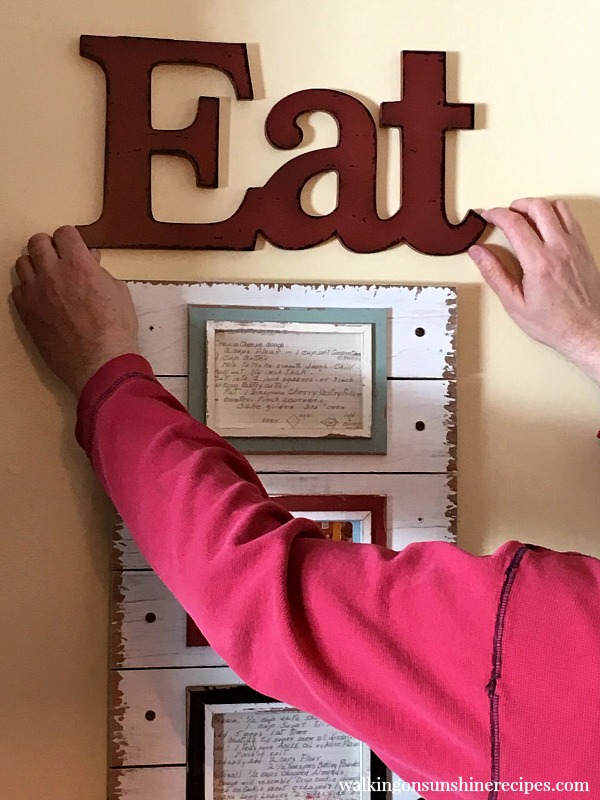 The project came together nicely!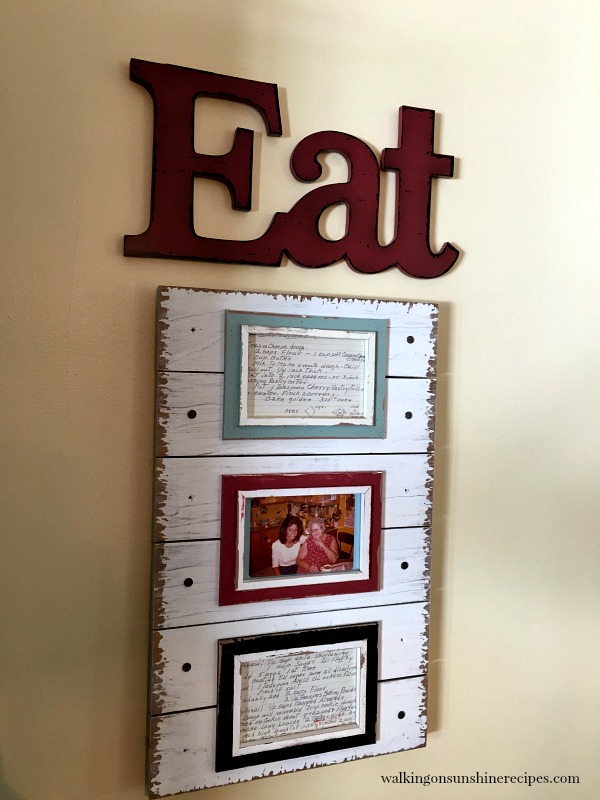 It looks great in my kitchen by my hutch.  If you look closely, you can see the set of hand-painted dishes I have from my grandmother on the bottom shelf.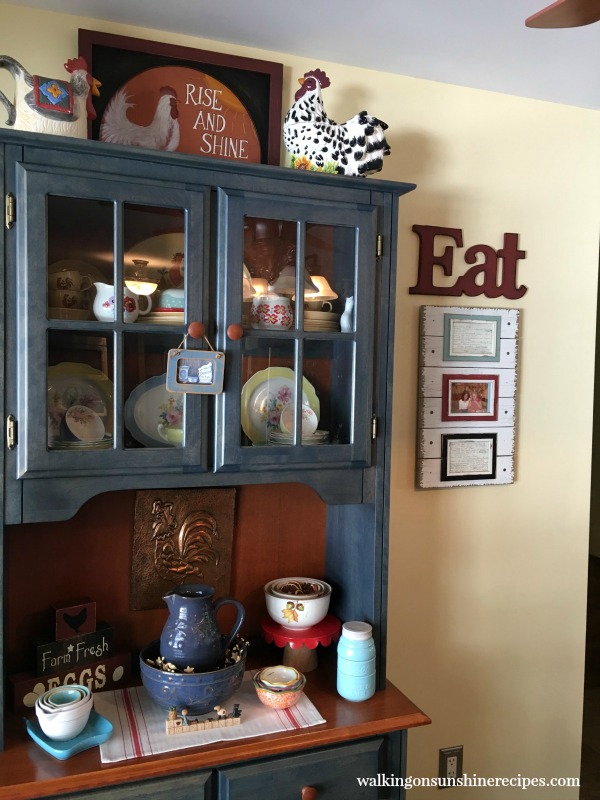 How to Give Old Family Recipe Cards as Gifts
I wanted to create two more framed recipe cards for my mother and my sister.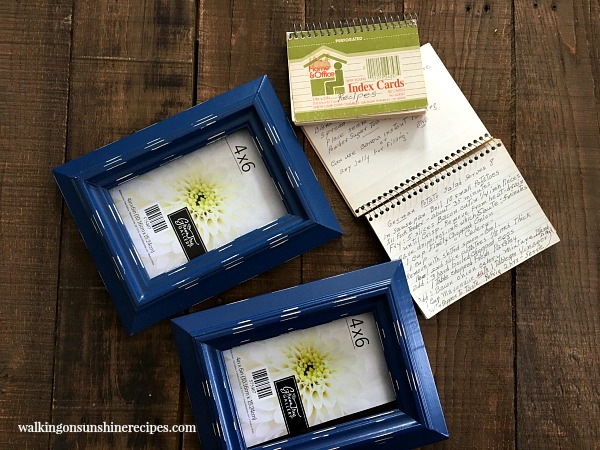 Here is my grandmother's recipe for pie crust for zucchini pie...my mother and sister make this recipe every year.  And the recipe for sesame twists.  We made this cookie recipe every year for Christmas while growing up.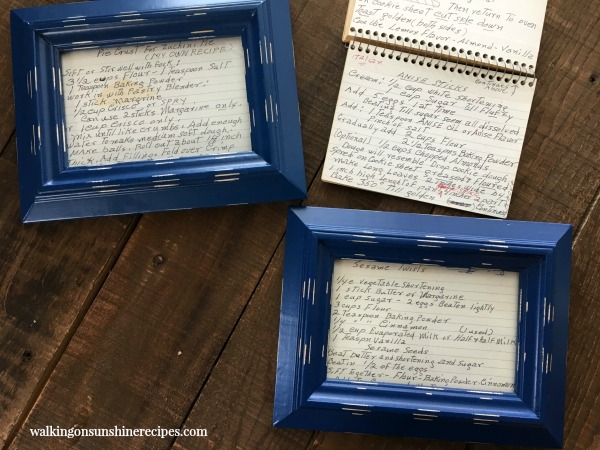 I gave them the gifts a few weeks ago.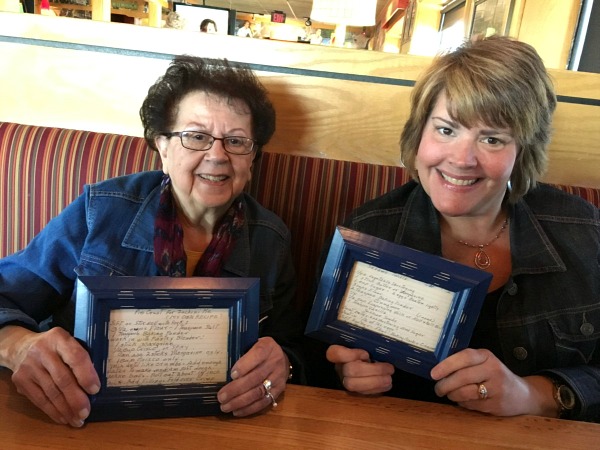 This post contains affiliate links. Your cost is the same, but I earn a commission when you shop through them.  For more information, click here.
More Information
More Information
More Information
More Information
More Information
More Information
More Information
More Information
More Information
More Information
More Information
More Information
More Information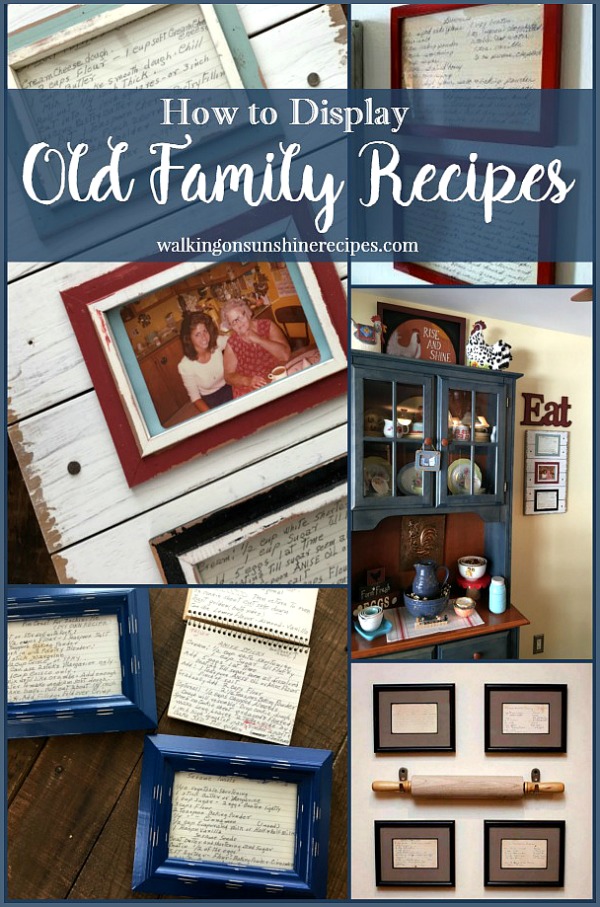 You can check out other recipe card projects on My Home Decor Pinterest Board.