Easy Bathroom Vanity Organization Ideas to help you get rid of messy, cluttered and unused space in the bathroom. These ideas work well for the kitchen too!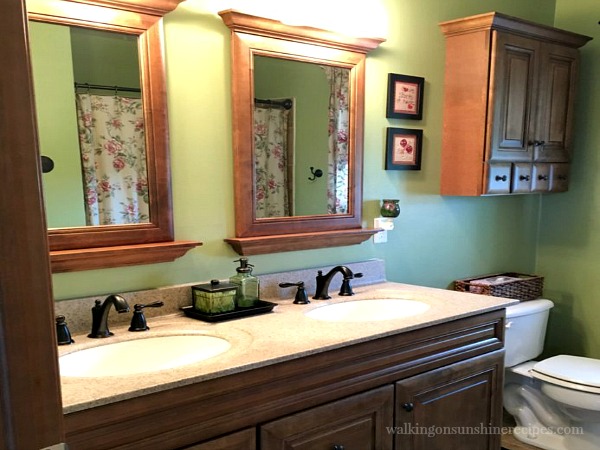 Bathroom Vanity Organization
A few years ago we redid our master bathroom. And while I love most everything we did bathroom vanity organization has been a struggle.  You may be thinking "what about those huge cabinets in the vanity?"
Well, that's just it…they're so huge that there is a ton of wasted space!  I've tried baskets and bins but most of the time I would have to get down on my hands and knees to reach in to the back of the cabinet to get what was needed.
Which is why I'm so happy I discovered these pull out baskets that I'm sharing with you today.  They are just what we needed and make our bathroom storage area work so much better!
How to Organize the Bathroom Vanity
Here is a full photo of our beautiful master bathroom.  You can see how spacious the vanity is with two large doors and drawers to store so much in!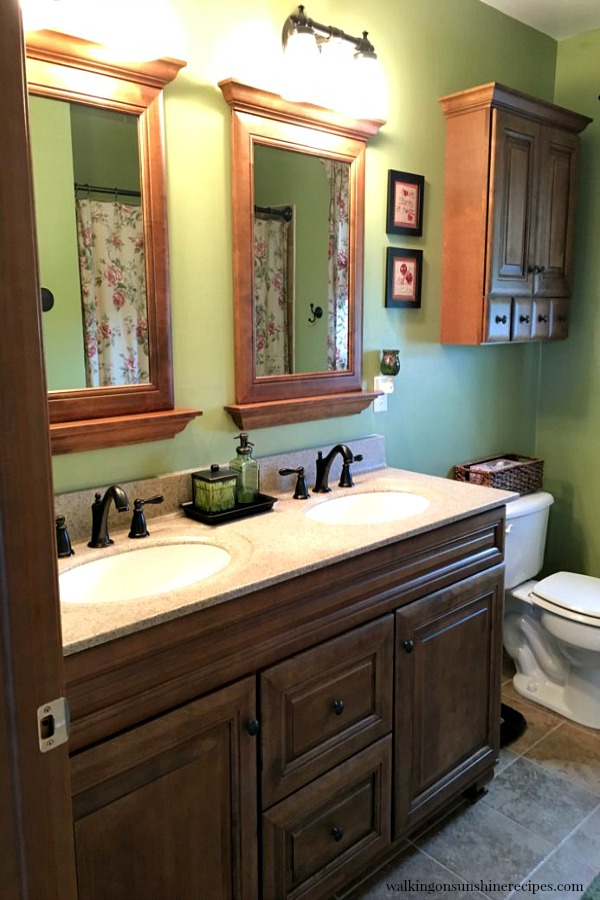 We have a very nice size linen closet in our bathroom so I don't need to store towels or paper products under the sink.  What I do need to store are the cleaning products I use and of course, the hair products that I like to use as well.
We have two drawers in the vanity that work great for our toothbrushes and my makeup.  Where I really needed help was the under the sink areas. This is what our bathroom vanity looked like before we installed the pull out baskets. Pretty sad, huh?  I mean look at all that wasted storage space!!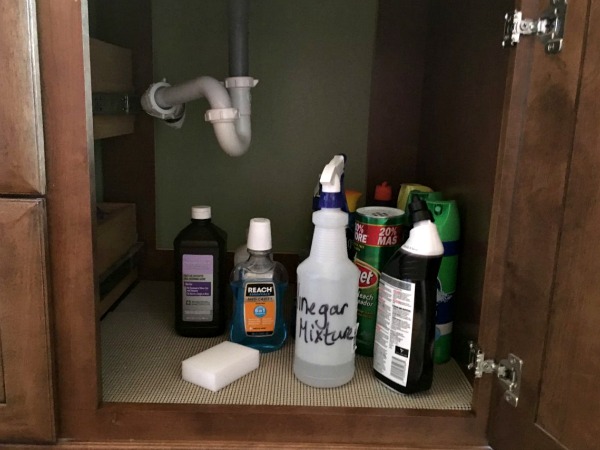 I really did try to organize the vanity over the past few years but the baskets and containers I used just never worked properly.  Every time I tried to get something and would pull a basket out, the cleaning bottles or hair-care bottles would fall over.  Not to mention all my nail polish bottles!
So I gave up and got rid of the containers and as you can see that just didn't look too good.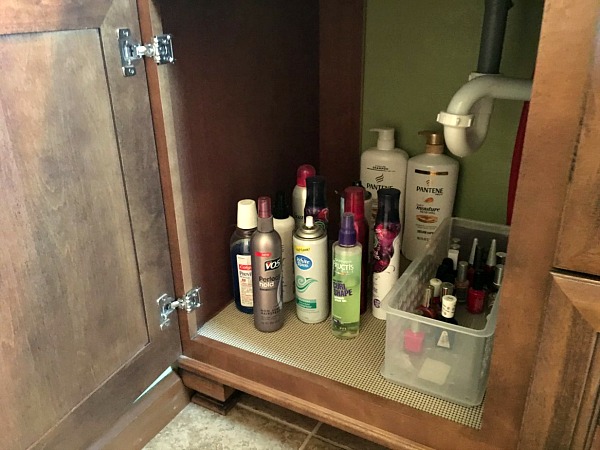 Easy Organization for your Bathroom Vanity
Here are the two pull-out baskets we selected.  They can be used for kitchen organization as well.  I chose to use them in our master bathroom because that's where we needed the help.  I love how they can be used in any cabinet that you need to organize.
This is the double pull-out basket in a premium platinum finish. I love the look of this basket as well.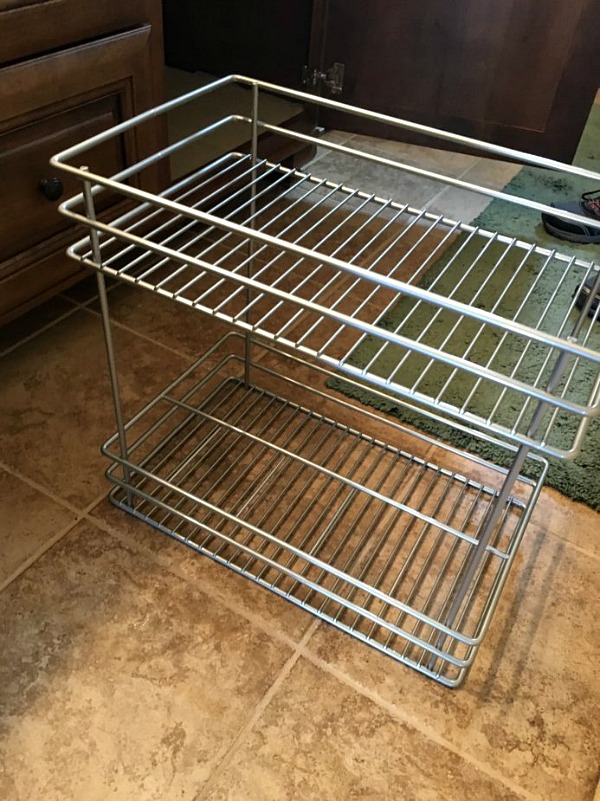 The pull out basket includes ball bearing, full extension soft close glides and easily mounts to the cabinet with only four screws.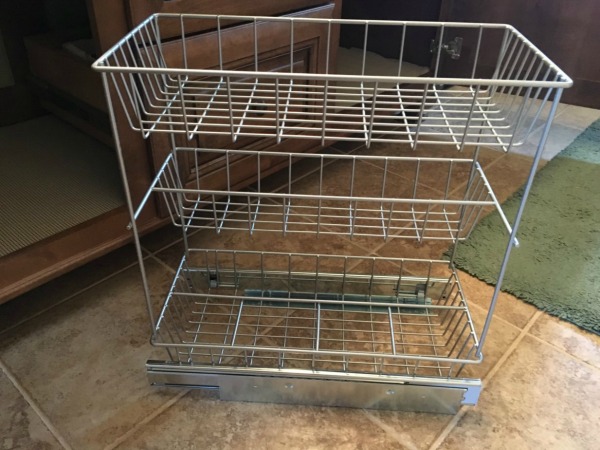 Both pull out baskets come with a template to help you make sure they're positioned correctly.  Once you make marks on the template, place the template in the cabinet and drill the holes.  EASY!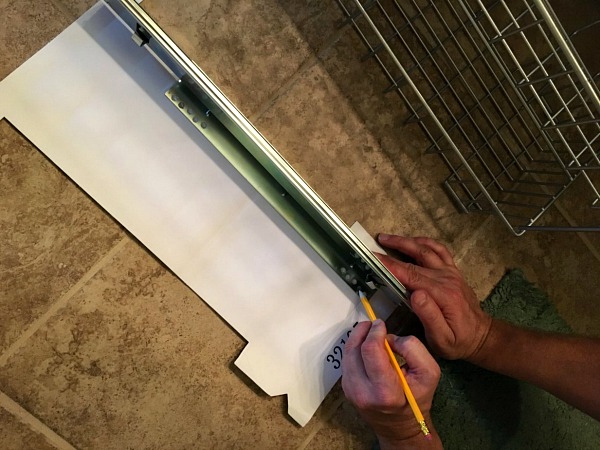 This is the Triple Pull-Out Basket for all my hair care products.  It's perfect for narrow cabinets and works well with fitting around the plumbing underneath the bathroom (or kitchen) sinks.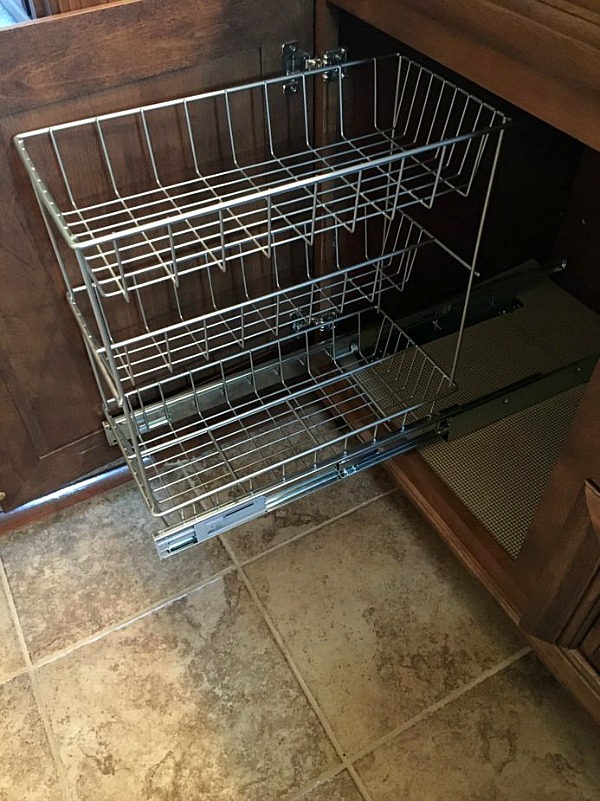 I finally have a great solution for all my nail polish too!  I love how easily the baskets pull out and how I can see all the way to the back without having to bend down .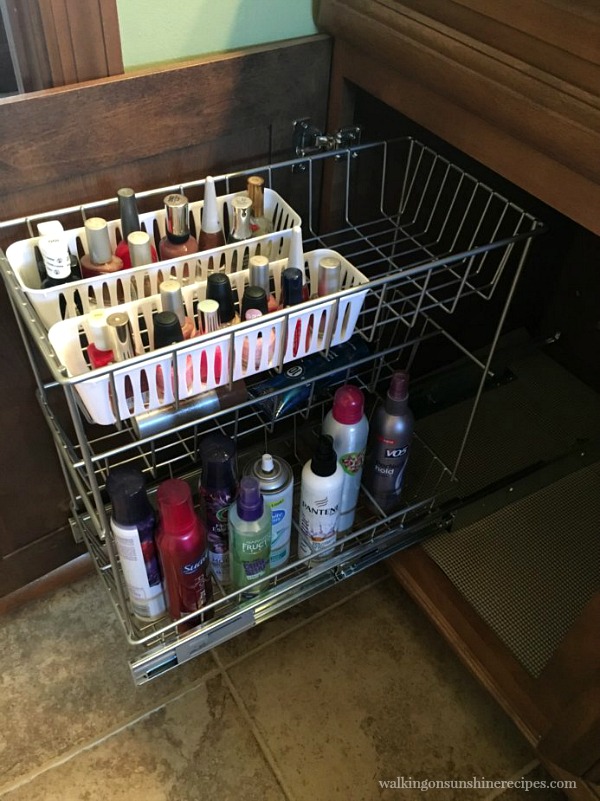 Look how nice all the cleaning products fit with this pull out basket. And I love the soft close glides both baskets have!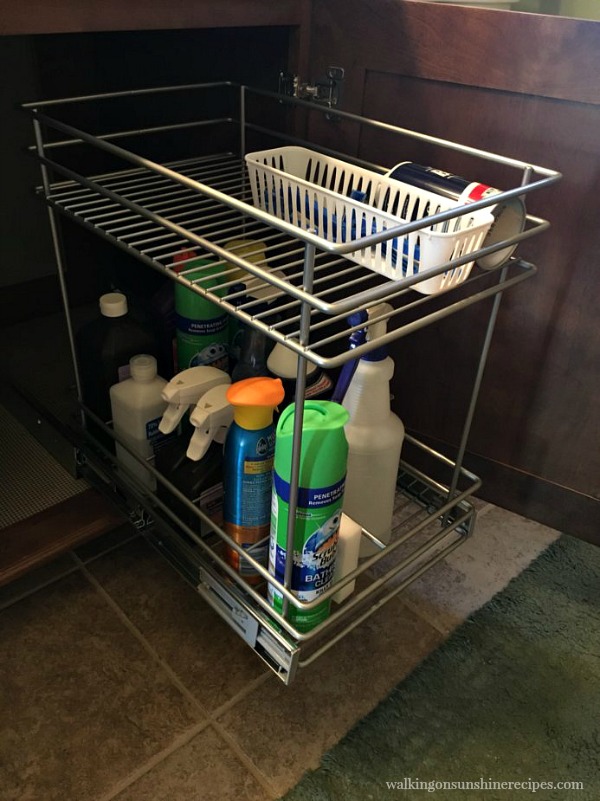 These pull out baskets work perfectly in our bathroom!