Dinner is ready in 30 minutes tonight with these EASY Chicken Enchiladas.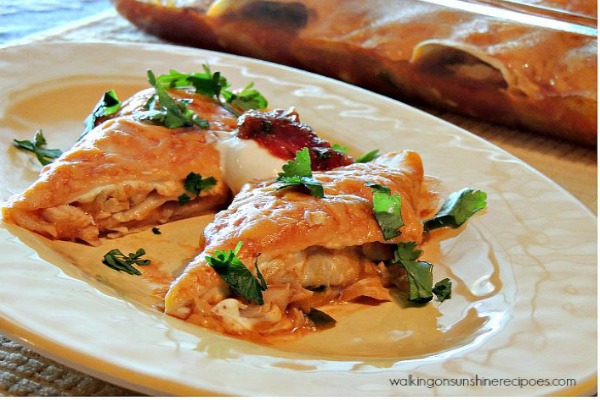 Today I'm sharing a recipe that's been a regular in our house for awhile now. Easy Chicken Enchiladas really do live up to their name easy.
They start out with pre-cooked or leftover chicken. Now, the only time I have leftover chicken is when I purposely cook more chicken than needed so I can have leftover chicken; go figure!

Easy Chicken Enchiladas Recipe
You can use a rotisserie chicken as well. I've done that plenty of times and that always makes preparations go quicker too. Or if you want to make chicken just to use for any
shredded chicken recipe, check out the recipe that I use HERE.
You can have dinner on the table in under 30 minutes with this easy recipe. I like to make rice pilaf on the side or a serve a tossed salad. Either way, your family will love this meal.
Freezing Instructions for Chicken Enchiladas
You can even freeze these! I love to make extra chicken enchiladas to freeze for busy nights. Once you get done putting the ingredients rolled up in the flour tortillas, place them on a baking tray and place the baking tray in the freezer for about 30 minutes or until the enchiladas are frozen. Store in a freezer safe plastic bag.
The next time you're going to have a busy night, just take a few of the enchiladas out of the freezer and let them defrost in the refrigerator. When you're ready to get dinner together, place them in a baking tray with the sauce and cheese and bake!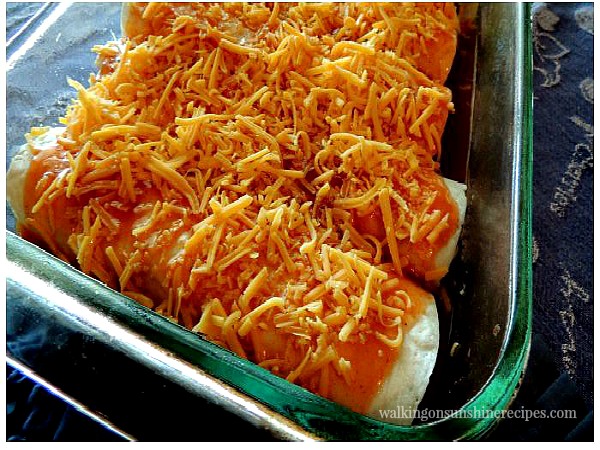 Chicken Enchiladas
prep time: 10 MINScook time: 20 MINStotal time: 30 mins
INGREDIENTS:
1 rotisserie chicken; shredded
1/2 package of cream cheese; softened
2 cans of enchilada sauce
2 cups of shredded cheddar cheese; separated
1 small can of chopped jalapenos; optional
6 – 8 flour tortillas
INSTRUCTIONS:
In a bowl, combine the shredded chicken with one can of enchilada sauce and one cup of the cheddar cheese. If you're using the canned jalapenos, add them now also.
Lay the flour tortillas flat on a cutting board and spread some of the softened cream cheese across the center of each tortilla.
Spoon some of the chicken mixture on top of each tortilla and roll up tightly.
Spread some of the enchilada sauce, from the second can, on the bottom of a 9 X 13 casserole dish.
Lay each rolled up tortilla on top of the sauce until the casserole dish is full.
Cover with the remaining enchilada sauce and top with the remaining 1 cup of cheddar cheese.
Bake in a preheated 425 for 15 to 20 minutes or until the cheese is bubbly.
Note:
You can also use 2 shredded chicken breasts.
.recipe-inner{text-align:left;max-width:620px;border:6px double #009BFF;padding:20px;background:#f2f2f2;margin: 40px auto;font-family:Lato, sans-serif;}#recipe .recipe-name{font-size: 21px;}#recipe .info{font-size:13px;text-transform:capitalize;border-bottom:2px solid #000;padding-bottom:7px;margin-bottom:20px}.info:after{content:";display:table;clear:both}#recipe .info span:first-child{margin-right:30px}#printbutton{border:0;margin:0;color:#fff;float:right;background:#555; padding:5px;border-radius:3px;cursor:pointer}#recipe .time{text-transform:uppercase;font-size:12px;text-align:center;background:#fff;padding:15px 0;margin-bottom:20px}#recipe .time span:not(:last-child){margin-right:12px}#recipe .time span:not(:last-child):after{content:";display:inline-block;height:10px;width:1px;background:#000;vertical-align:middle;margin-left:12px}#recipe .summary{line-height:1.7;font-style:italic}.ingredients{line-height:1.7}.ingredients h3,.instructions h3{font-size:20px !important;margin-bottom:0;color:#000}.ingredients ul{margin:0!important;margin-top:5px !important;}.instructions li{margin-bottom:15px !important;line-height:1.6;text-align:left;}.ingredients li{text-align:left}#recipe .instructions{margin-top: 30px;}#recipe .instructions ol{padding-left:39px;margin:0!important;margin-top:6px !important;}.posturl{border-top:1px solid #ccc;padding-top:10px;}.ing-section{padding-left:20px;margin: 10px 0;}.ing-section > span{font-weight:700}.recipe-credit{display:none;font-size:13px;border-top: 1px solid #ccc;padding:10px;text-align:center;background:#ffffff;margin:-20px;margin-top:15px;}.recipe-credit a{color:blue;text-decoration:none;}.copyright-statement{ font-size: 13px;font-style:italic;border-top: 1px solid #ccc;margin-top:15px;padding-top:15px;line-height:1.6;}#recipe .image{text-align:center;margin-bottom:25px}#recipe .image img{max-width:100%}#recipe .recipe-name{line-height:1.6;text-transform:uppercase;margin-top:0;letter-spacing:1px;text-align:center;margin-bottom:20px}#recipe .time{border-top:1px dashed #000;border-bottom:1px dashed #000;border-right:0;border-left:0}#recipe .summary{margin-bottom:30px}#recipe .summary:after{content:";display:block;width:50px;height:2px;background:#000;margin:auto;margin-top:10px}#recipe .instructions{margin-top:30px}#recipe .instructions ol{padding-left:39px;margin-top:6px}function printDiv(a){var b=document.getElementById(a);newWin=window.open(",'printwin');var c=newWin.document.createElement('style');c.innerHTML='html{font-family:sans-serif}img{display:none;}#printbutton,.recipe-credit{visibility:hidden;display:none;}.info{text-align:center;text-transform:capitalize}.recipe-name{text-align:center}.info span{margin-right:20px}.time{text-align:center;padding:10px;border-top:1px dashed #000;border-bottom:1px dashed #000;}.time span{margin-right:20px}.adunit,.adunitlabel,.adunitwrapper{display:none!important}';newWin.document.getElementsByTagName('head')[0].appendChild(c);newWin.document.getElementsByTagName('body')[0].innerHTML = b.innerHTML;newWin.print();}