I hope everyone had a GREAT Father's Day.
We had a pretty good day considering the Colonel is still away training.
The kids and I made a quick video for him and put it on Facebook,
then sent him a text to make sure he would log in at some
point during the day to view our message.
If YOU want to see the video, please join
Now on to today's recipe..
Eggplant Rollatini, NOT Eggplant Parmesan.
A few years ago we had lunch at a fancy restaurant and on the buffet was
Eggplant Rollatini.
I took some, not sure I would enjoy this new dish.
Imagine my surprise when I not only enjoyed but fell in love with Eggplant Rollatini.
I went on a search to learn how to prepare it and have made it a few times.
I just haven't had the time to share it with you until TODAY.
So here is MY version of Eggplant Rollatini...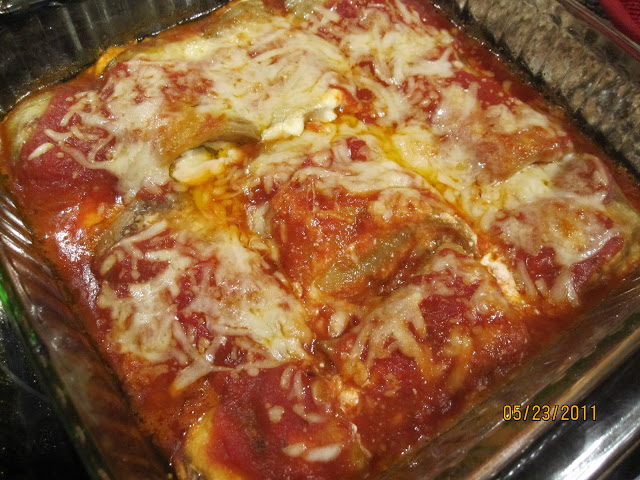 Ingredients:
Eggplant
Ricotta Cheese
1 Egg
Mozzarella Cheese
Tomato Sauce
Begin by slicing your eggplant very thin...lengthwise,
NOT in disc shapes like traditional Eggplant Parmesan.
I peel my eggplant, but you can leave the peel on if you prefer.
Now, fry the eggplant slices in oil for a few minutes.
You are only going to cook the eggplant long enough to make the slices pliable in order to ROLL.
It really only takes a few minutes.
PERFECT...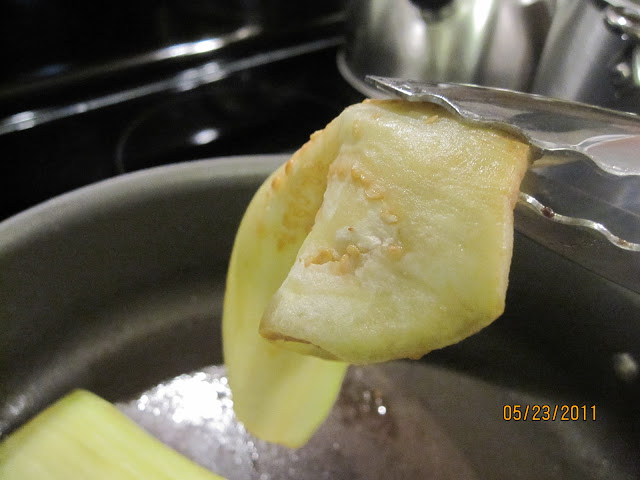 Lay all the pieces of eggplant on a cutting board...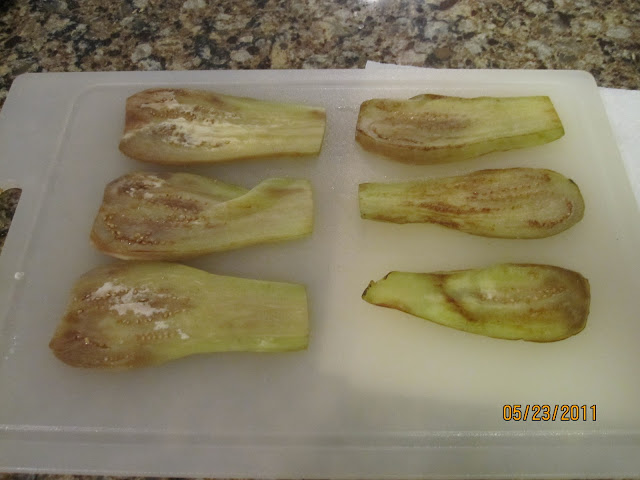 Combine the ricotta cheese with the egg in a mixing bowl.
I used about ⅓ of the container...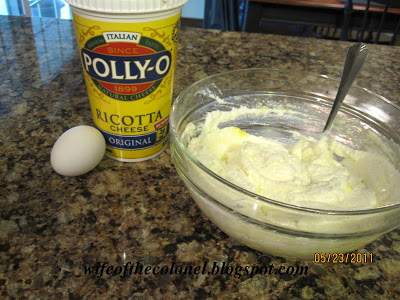 Spread some of the ricotta mixture on each of the eggplant slices...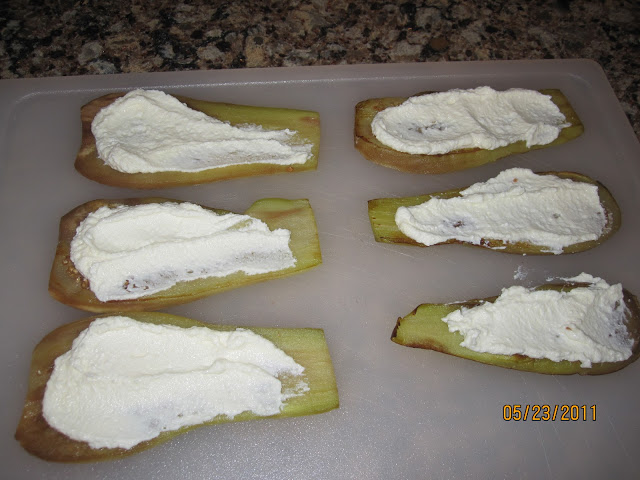 Now roll them up...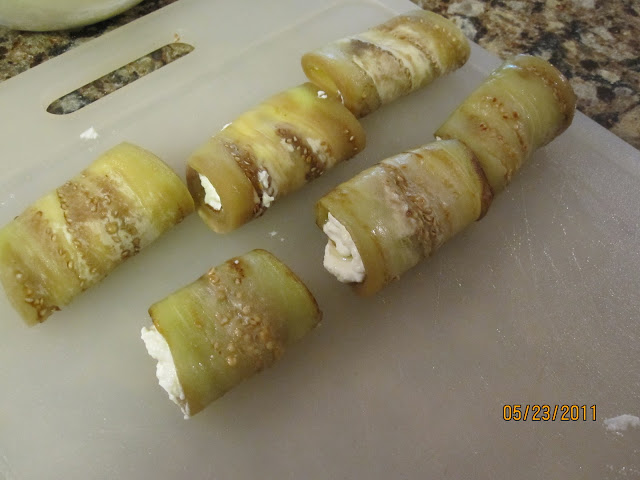 Put some of your tomato sauce in a baking dish, followed by your eggplant rolls.
You can see I was creative in getting them all to fit in a too small casserole dish...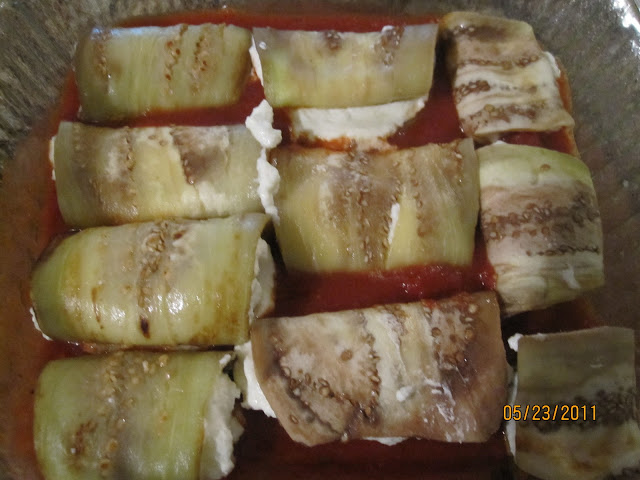 Cover with more sauce and mozzarella cheese...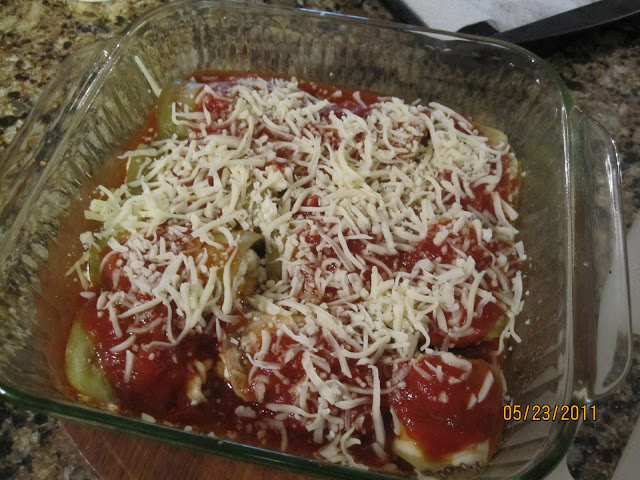 Bake at 375 degrees until hot and bubbly...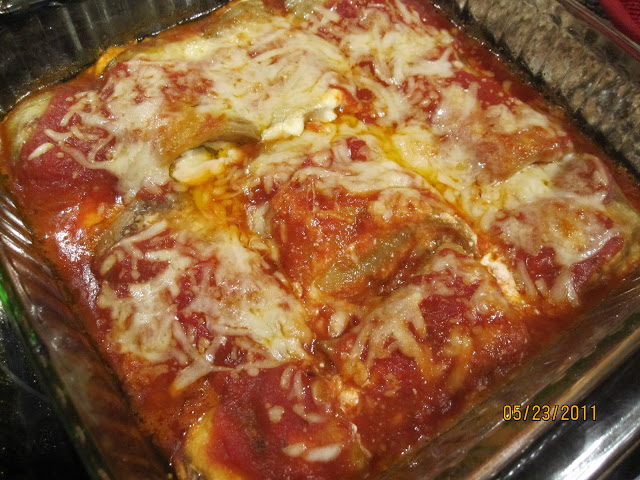 Serve and Enjoy!
Preparing the eggplant this way gives you a totally different taste.
AND...it's really DELICIOUS!
Enjoy your day!