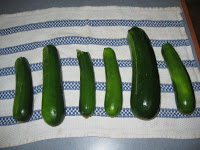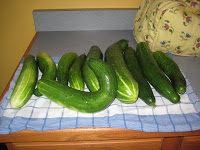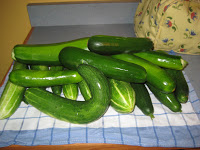 Look was waiting for me when I went out to my garden yesterday morning! I couldn't believe how many cucumbers and zucchini I kept finding as I moved away the leaves of my enormous plants. The zucchini is to my waist, I'm not joking, and the cucumber plant is creeping ever so slowly across the stone path to the tomatoes. I know my dad would have enjoyed the vegetable garden. He always liked the one we had in Paterson.
I have yet to have a red tomato, but then again we planted them late, July 4th weekend. My neighbor planted his tomatoes around Memorial Day and he has had only one red tomato. I'm sure by Labor Day we'll be swimming in tomatoes as well.
I am so enjoying this change in weather we are experiencing here in good old Pennsylvania. I know it's expected to go back into the 80's over the weekend, but I so enjoy having the windows open and the nice breezes. And I'm sure once school starts we'll be climbing back up into the 90's. It seems more and more now that September is as hot as July.
Well, enjoy the pictures. I'll be back soon to update you on things over here in my neck of the woods. The Colonel is coming home for the weekend and we need to tackle the butterfly bushes we planted just last year in front of the garage windows that are as tall as the windows! Yes, we seem to grow things big over here!
Later...