Homemade Household Cleaner is an easy way to help save money and keep your house clean at the same time. This is the "recipe" I've been using for years to clean my home.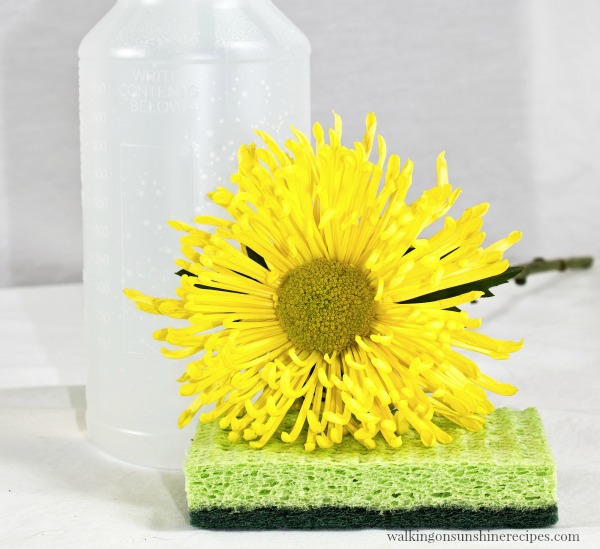 This post has been updated since it first appeared in 2015 with new information and purchasing information. I hope you enjoy the updates as much as I enjoyed working on them!
Affiliate Disclosure: This post may contain affiliate links. As an Amazon Associate I earn from qualifying purchases. For more information, click here.
Homemade All Purpose Cleaner
I've been using this all purpose household cleaner for years.
This is a homemade all purpose cleaner meaning you can use it practically everywhere. I use it for our toilets, floors and countertops. Yes, it works beautifully on our quartz countertops.
However, to be safe, you should try it on a small area on your countertops before spraying it over the entire surface.
It is not recommended at all to use on marble counter tops or marble tile flooring.
How does vinegar work as a cleaner?
The acidity in vinegar is what helps remove buildup, dissolve soap scum and clean other messes that magically appear in our homes.
As with any homemade household cleaner, make sure you store this away from the reach of young children.
Ingredients
½ cup ammonia
½ cup vinegar
¼ cup baking soda
water
Instructions
Combine the above ingredients into a gallon of water and mix well.
Divide the mixture into spray bottles.
You can even add essential oils to the mixture if you like to get rid of the vinegar smell.
You're going to want to make a few bottles. I keep one bottle in all three bathrooms, one in the kitchen and an extra one out in the garden shed to use on our gardening tools and the back porch furniture.
How to use homemade household cleaner
If the bottle has been sitting for awhile, shake it up gently before using.
Spray on the surface you want to clean and allow it to sit for up to five minutes. Wipe dry using paper towels or even a microfiber cloth.
Here are a few spray bottles and essential oils you can use for your Homemade Household Cleaner:
More Information
More Information
More Information
More Information
More Information
More Information
More Information