This post was sponsored by GOJO, the makers of PURELL® Multi Surface Disinfectant, as part of an Influencer Activation for Influence Central and all opinions expressed in my post are my own.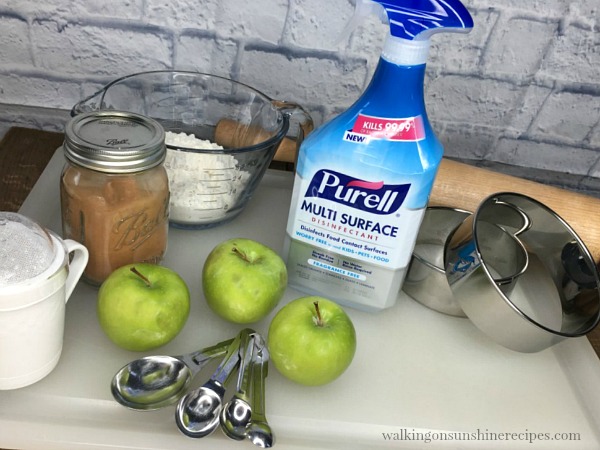 Do you do as much baking around the holidays as I do? I love to bake cookies and other kinds of yummy treats to give to my family and friends as gifts.   I already made 4 recipes of cinnamon rolls to give to a few friends.  And I can't wait to make my favorite Apple Braid recipe.  It's really delicious and so easy.  
But one thing that I'm always concerned with is how to keep the kitchen clean and germ-free while I'm cooking. It's very important that the products I use to keep my kitchen clean are antibacterial.  I do a lot of cooking during the holidays and I like to make sure the surfaces are disinfected first before I start.  But the problem with most disinfectant sprays that kill germs is they're not really great to use around surfaces that come in contact with food.  
Which is why I was so happy to hear about this new product for PURELL® Multi Disinfectant Spray. It quickly kills germs without using harsh chemicals and can be used on all food-prep surfaces...especially cutting boards.  And you don't need to rinse with water!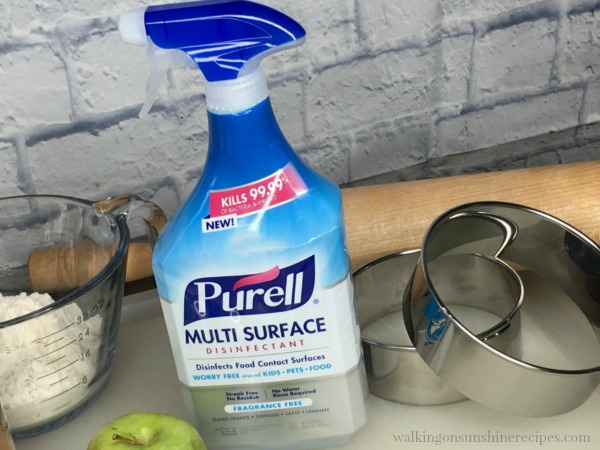 Tips for Keeping the Kitchen Clean
Clean up spills and messes right away.
If you're going to reuse measuring spoons, place them on top of a plate and not directly on the counter.
Measure your ingredients over the sink.
Spray your baking trays with non-stick spray over the sink - this one has been a big help for me!
Keep a bowl of hot soapy water in the sink to allow messy bowls and spoons to soak.
Use a garbage bowl - keep one bowl on your counter that you can immediately use to throw cracked eggs, butter wrappers, etc.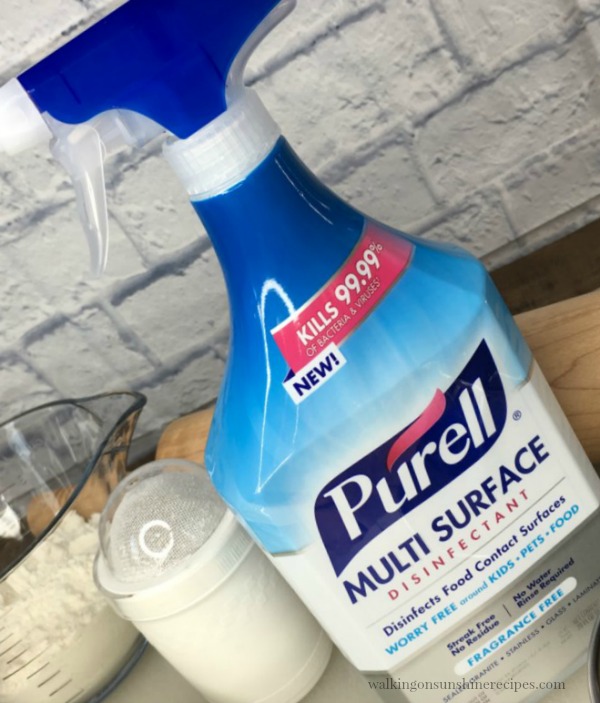 Here are a few other reasons why I'm enjoying this new product:
Worry-free around kids, pets and food.
Approved for food prep surfaces.
No water rinse required on food prep surfaces.
No harsh fumes, no toxic residue, no harsh chemicals, no bleach.
Germ killing power of bleach without harsh chemicals.
Use in places you do not use traditional cleaners.
Disinfect and clean.
Won't stain clothes or fabrics.
Kills 99.99% of germs.
Can be used on both hard and soft surfaces.