This week's Inspirational post is a favorite scripture verse of mine: Seek ye first the kingdom of God found in Matthew 6:33.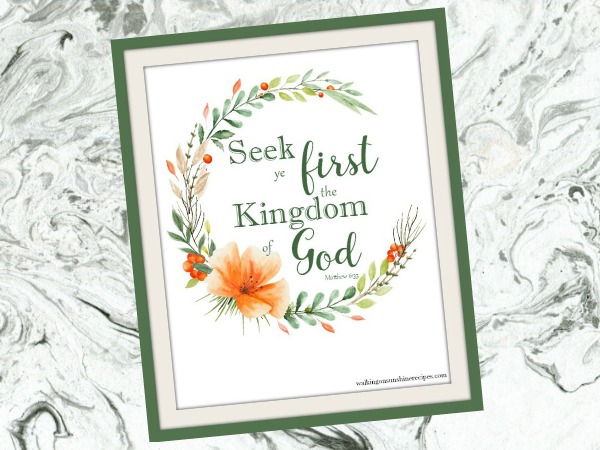 Seek Ye First the Kingdom of God
This week I'm sharing with you another FREE printable that has become a favorite scripture verse of mine. I know a lot of people and bloggers choose a word every year to help them define themselves or their blog.
Well for me, I'm choosing Matthew 6:33.
Free Scripture Printable
That's right, I chose a scripture verse. And then I thought what better way to be reminded of it every single day than to create a pretty printable and have it hanging close to me where I can see it and read it and pray over it.
And if you want to do the same, you can print it out too! You don't need to sign up for anything for this printable, but if you do sign up, you get access to all the printables I create...which are quite a few! I hope you have a great Sunday and enjoy this fun FREE printable!

Once you click HERE or the button below, you will be taken to box.com and can download the printable. Once the printable is downloaded, you'll be able to print it out using whichever print program you have for your computer. I have mine printed out in a 8X10 size and hanging on my bulletin board.

This post contains affiliate links. Your cost is the same, but I earn a commission when you shop through them.
For more information, click here.
More Information
More Information
More Information
More Information
More Information
More Information