Yes, it was hot!
But it was also a beautiful day on the lake.
  We put up two canopies and brought tables from the church for us to put all the food on.  We set up our area on the grass right before the sandy part of the beach.  
It was beautiful.   
We ordered large sandwiches from Subway and had plenty of chips.  I made a nice salad with lettuce from my garden.  We also had macaroni salad that Suzanne made. 
Everything was yummy!  
We had so much dessert.  
But who doesn't like cake and cookies?  
I made two types of cake and two types of cookies.  
Another friend, Nicole, made these FABULOUS cookies.  
I really need to get the recipe.
Here I am with my good friend Olga who is the director of our Girls Program at church.  
I teach the junior high class.  Olga teaches the high school class.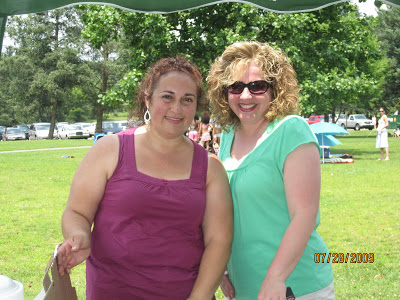 The highlight of the day was the tug-of-war between the girls and the boys!
That's Michael trying his hardest to pull!  Curt, our lifeguard for the day is behind him and Jonathan is also pulling.  He brought his two girls and stayed for the fun!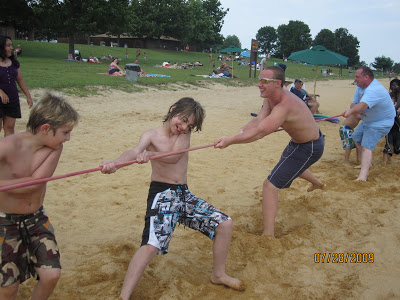 Here are the girls.  The boys were NO match for them!  
We played 3 games and the girls won all 3!  
It was so much fun!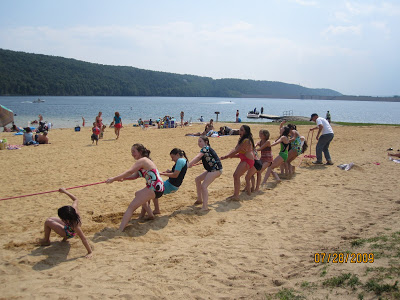 As you can see, everyone had a great day!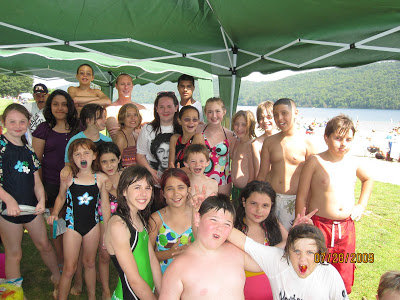 The lake was beautiful.  The water is pretty clean!  
You can see the bottom of the lake in the shallow end.   
It's a pretty large lake.  
There were quite a few boats on the lake yesterday and there's even a boat rental.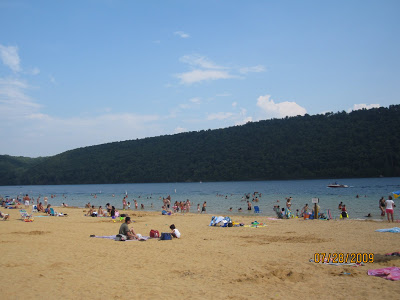 It was a beautiful day filled with fun and I know all the kids had a great time and that's what it's really all about, right?  
Enjoy your Wednesday!