Keeping your house clutter free is something that doesn't take a lot of time to do each day. I love having a clutter-free home. It's really not that hard to do and it really does make a difference in how YOU feel if your home is tidy and put together. So for this week's Quick Tip Thursday I put together a list of things to do every day to help keep your home and life organized: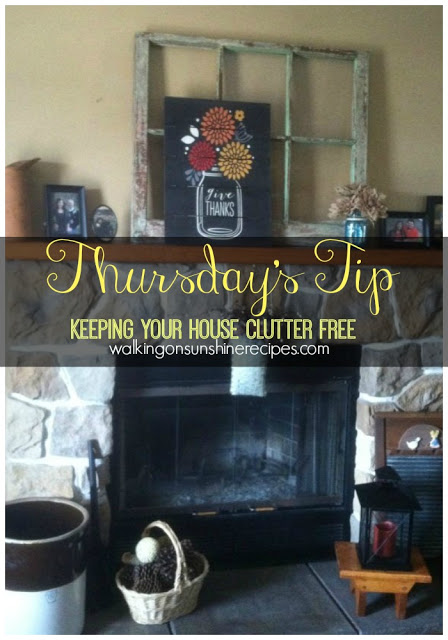 Make Your Bed
That's right...just like our mothers told us.
Make your bed every day. It's a great way to start your morning and it instantly
makes your bedroom look put together.
You did spend a lot of money on that comforter or quilt set, right?
Why not make your bedroom pretty for YOU!
Wipe Down the Bathroom
Every morning when you are finished getting yourself ready, spray all the
surfaces in your bathroom and using a clean washcloth, wipe them down.
Do the same with the toilet.
Now move on to the other bathrooms in your house.
Do One Load a Laundry a Day
When our children were younger, this helped me tremendously in keeping our house
clean and organized. And don't forget to fold the laundry and put it away.
Keep the Kitchen Counters Clean
Spray the counters and wipe them at least twice a day.
Once after breakfast and making lunches for your children and husband
and then again at the end of the day after dinner and you put up the "Kitchen is Closed" sign.
Keep the Kitchen Sink Clean
After each meal, you should clean out the sink.
Either wash the dishes or put them in the dishwasher.
Then rinse the sink with hot water.
Spray and scrub the sink at the end of the day as well.
Empty the Trash
Every night after dinner you should empty the trash.
This will help your kitchen smell clean.
Mop the Floors
Now I'm not talking about pulling out the mop and bucket every day,
but get your swifter mop out and dry mop your floor.
This one is really hard for me and I need to be more faithful in doing this step.
Mail
Go through your mail and sort it as soon as you bring it in the house.
Living Areas
Go through the living room, computer room or family room at least twice a day
and pick up things that don't belong. Place them in a basket for you to put in their proper place later in the day. Fix the pillows and put the remote controls by the television.
Light a Candle
I love to light a candle in the kitchen around 30 minutes or so before my husband comes
home from work. It makes the house smell clean and fresh.
And finally...have a place for everything and put everything in its place.
It sounds simple, but it really does work.