Today I'm excited to share with you a few of my favorite bloggers and am very happy to be able to call them friends!  We may not have met in person, but we do have relationships through our blogs, foodie parties and of course our Facebook pages.Over the next few weeks, I will be highlighting one of their favorite recipes from their blogs.  I hope you will enjoy these recipes and will take some time to visit their blogs, Facebook pages and get to know them as I do.
Our first "Guest Contributor" we have is Patty from Cooking on a Budget.  Patty has a GREAT blog filled with amazing recipes and ideas.

When Lois approached me to guest blog on Walking On Sunshine
I was ecstatic. Lois is one of the very first food bloggers I met after
starting my blog and my food page on Facebook. So I am thrilled to share with
all of you a "special occasion" recipe in our house. It's an appetizer my
husband had on vacation so many years ago and I replicated it in my own
kitchen. I hope you love it as much as we do.
This is the post for my Long Island
Broiled Oysters. I love this post and hope you will also.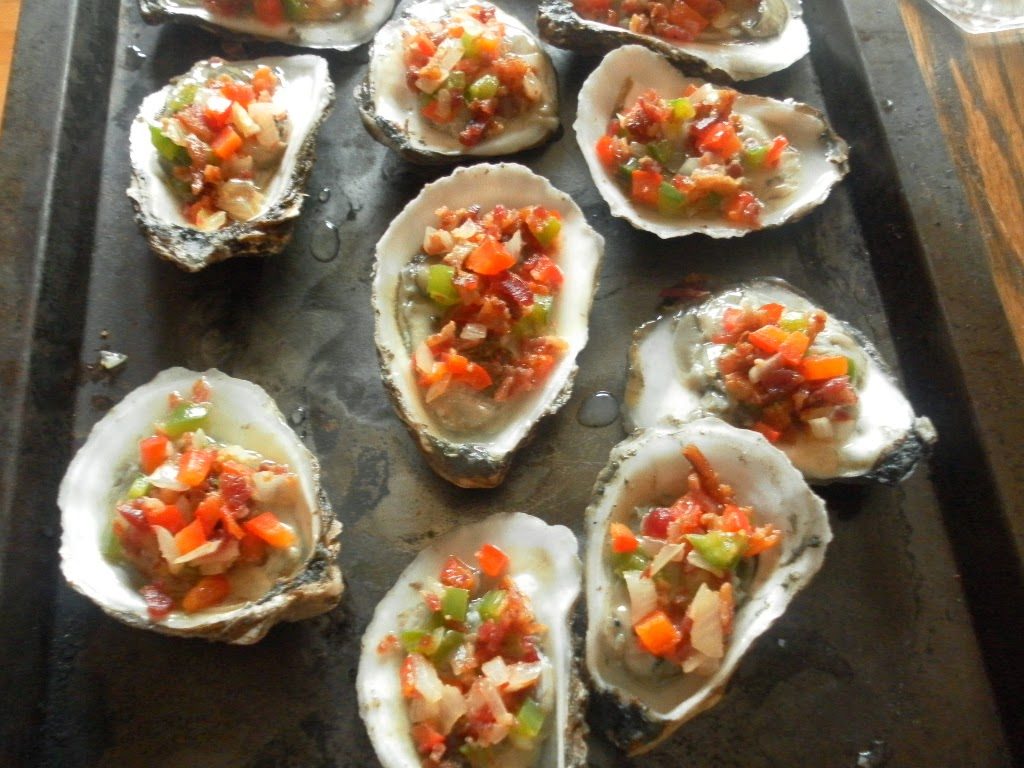 "As I ate the oysters with their
strong taste of the sea and their faint metallic taste that the cold white wine
washed away, leaving only the sea taste and the succulent texture, and as I
drank their cold liquid from each shell and washed it down with the crisp taste
of the wine, I lost the empty feeling and began to be happy and to make plans."

― Ernest Hemingway,
A Moveable Feast 
The Blue Point Oysters used in this
recipe are farmed in the ocean waters of Long Island Sound off of places like
Fishers Island and Copps Island where they are harvested from a unique blend of
aquaculture and natural development. Hence the recipe name, "Long Island
Broiled Oysters".
My husband loves raw oysters and he
especially loves these baked oysters. This is not your typical Cooking On A
Budget recipe. The oysters themselves are not ultra expensive ($8.99 for one
dozen), however Gruyere cheese is expensive and with the other components this
dish added in, I only make this for special occasions. You could replace the
Gruyere cheese with some good Swiss cheese as those two cheese are very similar
in taste to help bring the cost down some.
This recipe should yield enough
topping for one dozen oysters. If you are planning a dinner party with close
friends or family and want a wow appetizer this is the ticket.
The nice thing is, you can prepare
these ahead of time keep them refrigerated until your guests arrive. Pull the
tray out of the refrigerator and let them come to room temperature and when you
are ready, pop them under the broiler.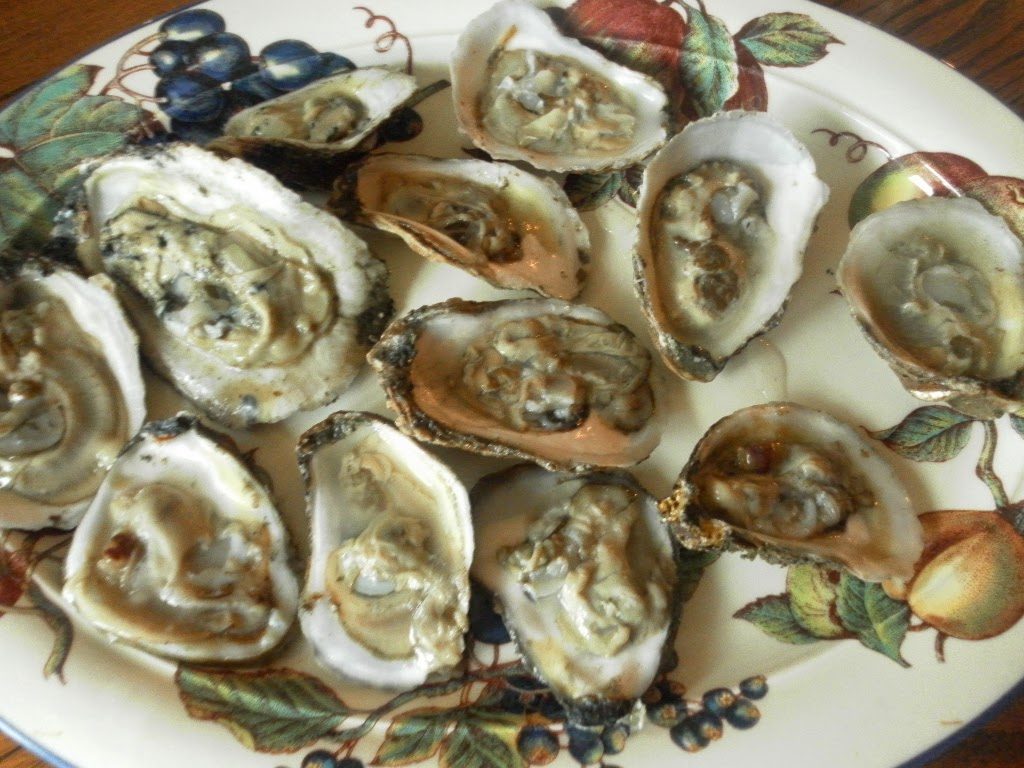 Ingredients:
12 oysters cleaned and shucked – leaving the oyster and
any liquid in the shell. (Place the oysters on a  baking sheet and
store in the refrigerator while preparing the topping.) For easier eating,
slide your oyster knife under the oyster to remove both muscles.
3-4 strips of lean bacon
1/3 cup green bell pepper – finely diced
1/3 cup red bell pepper – finely diced
1/4 cup shallot or sweet onion – finely diced
1 cup grated Gruyere or Swiss Cheese
Directions:
In a frying pan cook the bacon until it is crispy.
Remove to drain on a paper towel.
Pour out some of the bacon fat and in the same pan,
saute the onion and bell peppers until softened. Remove from the heat and
cool down.
Mince the bacon with a sharp knife and add to the onion
and pepper mixture. Mix well.
When you are ready, remove the sheet pan of oysters
from the refrigerator.  Put some of the onion and bell pepper and
bacon mixture on top of each oyster. Top the oysters with the grated
cheese and they are ready to go under a broiler.
Broil the oyster just until the cheese has melted to your
liking and the oysters are warmed through. Takes just a few minutes or so.
Shredded
Gruyere on each.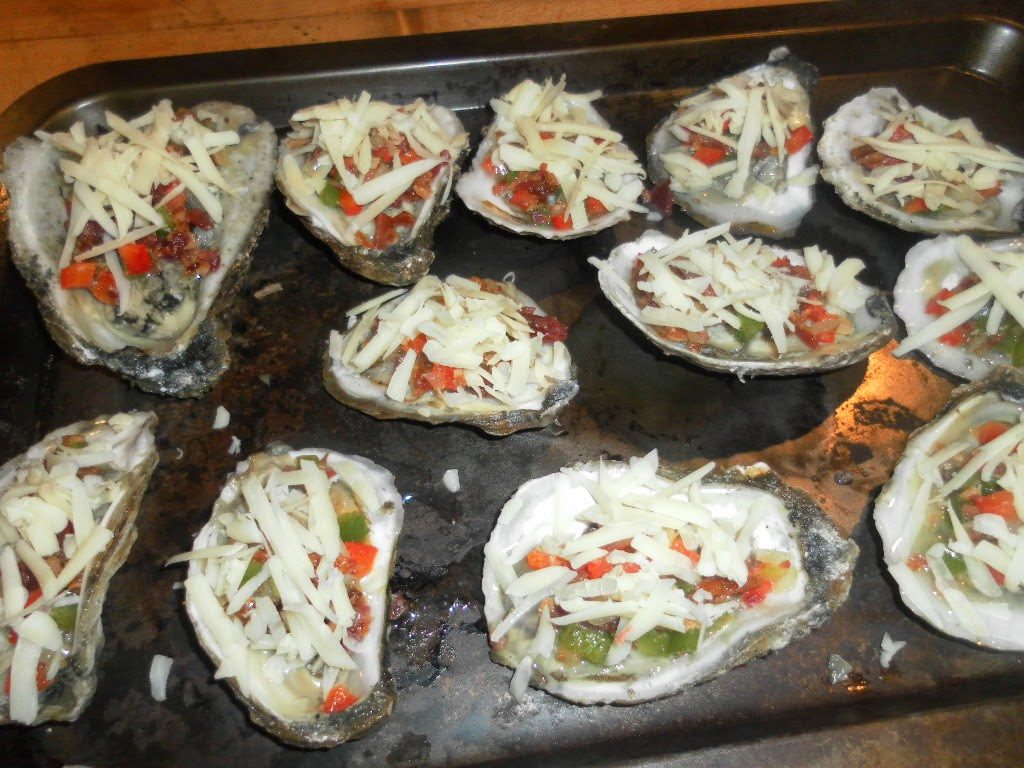 An amazing and delicious appetizer…AND EASY!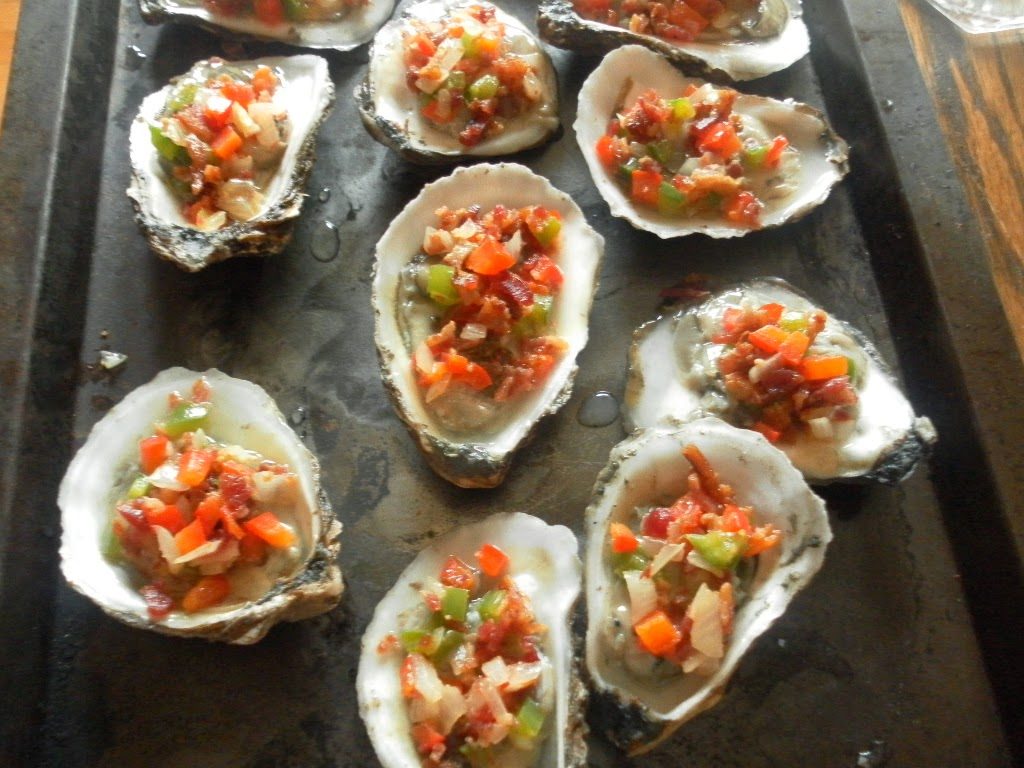 Your
guests will be blown away with this appetizer.