We finally were able to celebrate my son's high school graduation with a graduation party this weekend. We've had a very busy summer and my husband was away training the cadets for the past 6 weeks.  The only time we had to have Michael's graduation was this past weekend...three days before he leaves for college.  We had a great time and I have to share with you this recipe for Pea Pesto Crostini that my friend, Jani, made for the party.
My son and a few of our friends that came to celebrate.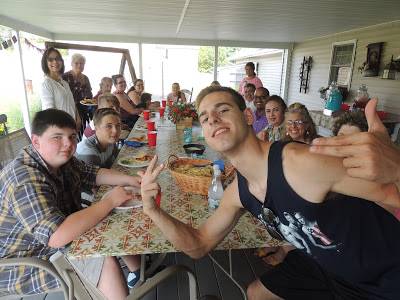 The back porch before everyone arrived.  For a few years now my hubby has extended our back porch table with plywood to make our table BIG enough to fit a lot of people.  We cover it with inexpensive flannel back tablecloths that are stapled to the plywood.  The tablecloths are easy to clean and are easy to change if they get damaged. With an "assortment" of chairs, we are able to fit 20 people around this extended table.  We also had our dining room set up for guests to sit and eat as well.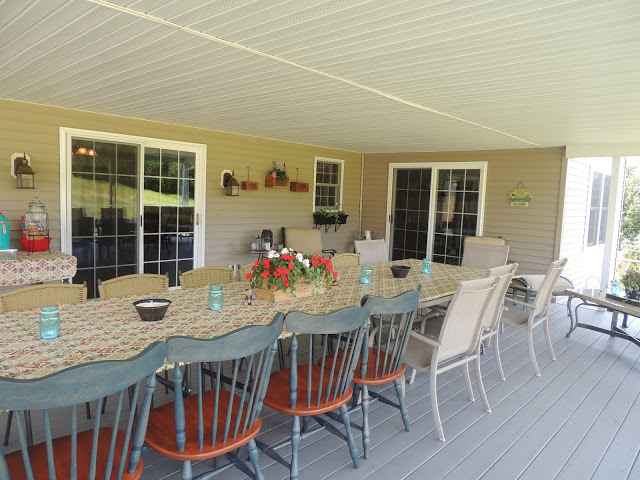 Michael and his friends playing volleyball.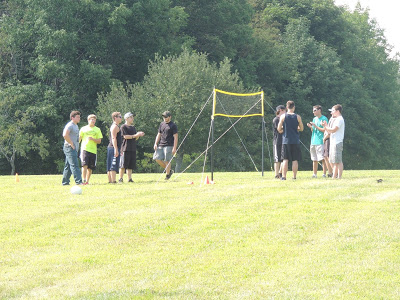 The cake.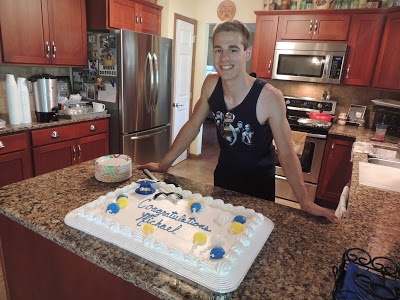 Pea Pesto Crostini Recipe
Pea Pesto Crostini
(Recipe from:  Food Network)
Ingredients:
1 (10-ounce) package frozen peas, defrosted
1 garlic clove
½ cup grated Parmesan
1 teaspoon salt, plus extra for seasoning
¼ teaspoon pepper, plus extra for seasoning
⅓ cup olive oil
Crostini:
8 slices baguette
⅓ cup olive oil
8 cherry tomatoes
Please follow the directions
HERE
for putting this amazing appetizer together.
It really came out delicious and everyone loved it!
Thanks Jani for sharing with us!